Looking for Affordable Aerial Lift Certification in Honolulu? Sign Up with ALC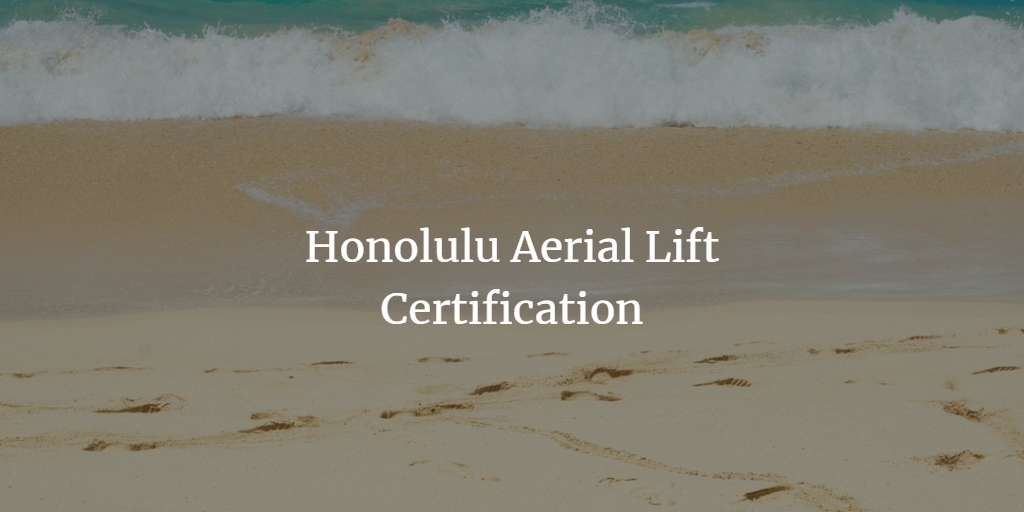 Honolulu is located on the island of Oahu and is known for having perhaps the best weather in the world. Sun, sand, and the pristine blue waters of the Pacific lapping gently at the shore, along with tropical flora, a temperate climate, breathtaking views from Diamondhead, and lush green mountains sweeping down to the city make Honolulu a tropical paradise. According to the Global Liveability Index, Honolulu was recently named the most livable city in America. The secret is out – Honolulu is a great place to live and start a business!
If you hire aerial work platform (AWP) and mobile elevating work platform (MEWP) workers, AerialLiftCertification.com offers complete aerial lift certification in Honolulu. With three training packages, affordable prices, and lifetime support, we're the best option for comprehensive compliance. 
Here are just a few reasons why companies trust ALC for their aerial lift certification in Honolulu:
✓ Great prices – Honolulu aerial lift certification is affordable!
✓ Outstanding customer support
✓ Free renewal training
✓ All paperwork included
✓ 100% OSHA compliance
✓ And much more
Sign up today and see how we can help with your Honolulu aerial lift operator certification!
ALC's Honolulu Aerial Lift Certification: Prices, Information, and More 
Look no further than ALC for your Honolulu aerial lift certification. Here are our certification training programs: 
1. TRAIN A TRAINER – AERIAL LIFT CERTIFICATION IN HONOLULU
An on-site safety expert and trainer is a huge luxury. And it doesn't cost a fortune. For just $149, you can have your own safety expert with our Train a Trainer course.
2. TRAINING KIT – AERIAL LIFT CERTIFICATION IN HONOLULU FOR EVERYONE!
Attention new employees, experienced operators, and everyone in between — for superior MEWP aerial lift certification in Honolulu, this is the course you need! Our Training Kit is popular with Honolulu employers, and for good reason! For $299, we help Honolulu businesses get their workers OSHA-compliant for less than many other certification training programs. 
3. BUNDLE PACKAGE – BEST OF BOTH WORLDS FOR YOUR HONOLULU AERIAL LIFT CERTIFICATION
No other aerial lift certification in Honolulu course bundle comes close to this value. Our Bundle Package includes everything you need for comprehensive MEWP "trainer training," plus our versatile training kit. It is sold for the discounted price of $399, so you'll save $50 in contrast to purchasing our Train a Trainer course and Training Kit individually. 
Don't take chances with your safety. Sign up with ALC and give your employees the training they deserve!

Why Aerial Lift Training in Honolulu, Hawaii Is Important
Aerial lift operators are always in demand in Honolulu. And, employers are responsible for aerial lift certification in Honolulu. The City of Honolulu and other employers in the area need workers that have been properly trained to operate aerial lifts and other large pieces of equipment without posing risks to themselves, nearby workers, and other people on or near a jobsite. 
Employers can also be subject to heavy fines for allowing untrained workers to operate aerial lifts. They're just not willing to risk incurring OSHA penalties and fines and the legal consequences of having workers without Honolulu aerial lift certifications operate their equipment. 
The bottom line: Honolulu aerial lift certification is a must-have for any worker that uses an aerial lift. If your business provides aerial lift safety training to its staff, it can guard against lift accidents. Plus, your company can foster a culture of safety and boost workplace productivity. Your business can limit its risk of compliance violations from OSHA, too.  
Why Your Business Need Honolulu Aerial Lift Certification from ALC
Our Honolulu aerial lift certification offers the following benefits: 
Improved workplace safety.

Your workers can learn how to safely use and maintain aerial lifts. The result: your workers can avoid aerial lift

accidents.

Compliance with OSHA standards.

Our training aligns with the latest OSHA requirements.

Therefore, you're covered in case of an OSHA audit. 

Instant proof of training.

Once your workers finish our certification training, they receive instant documentation that verifies their completion. Your workers won't have to wait for an aerial lift operator license in the mail. Instead, they have instant proof that they are OSHA-approved aerial lift operators. 
It's important to protect your reputation and assets. Our aerial lift certification allows you to do just that. 
Give Your Workers the Honolulu Aerial Lift Training They Deserve
Aerial lift certification training can be a difference-maker for your Honolulu business. It can even provide you with an opportunity to show your workers you want to do everything in your power to help them remain safe and productive. 
Your workers deserve the best aerial lift training. Thanks to ALC, you can provide your workers with training that meets their expectations. Our training ensures your workers can get up to speed on OSHA aerial lift safety mandates quickly. It also enables your workers to stay in the loop regarding a wide range of aerial lift safety topics. That way, our training empowers your workers to operate aerial lifts with efficiency and precision. 
The ALC team encourages you to reach out regarding our aerial lift certification training programs. For more information or to enroll your workers in any of our programs, please contact us online or call us today at (888) 278-8896.