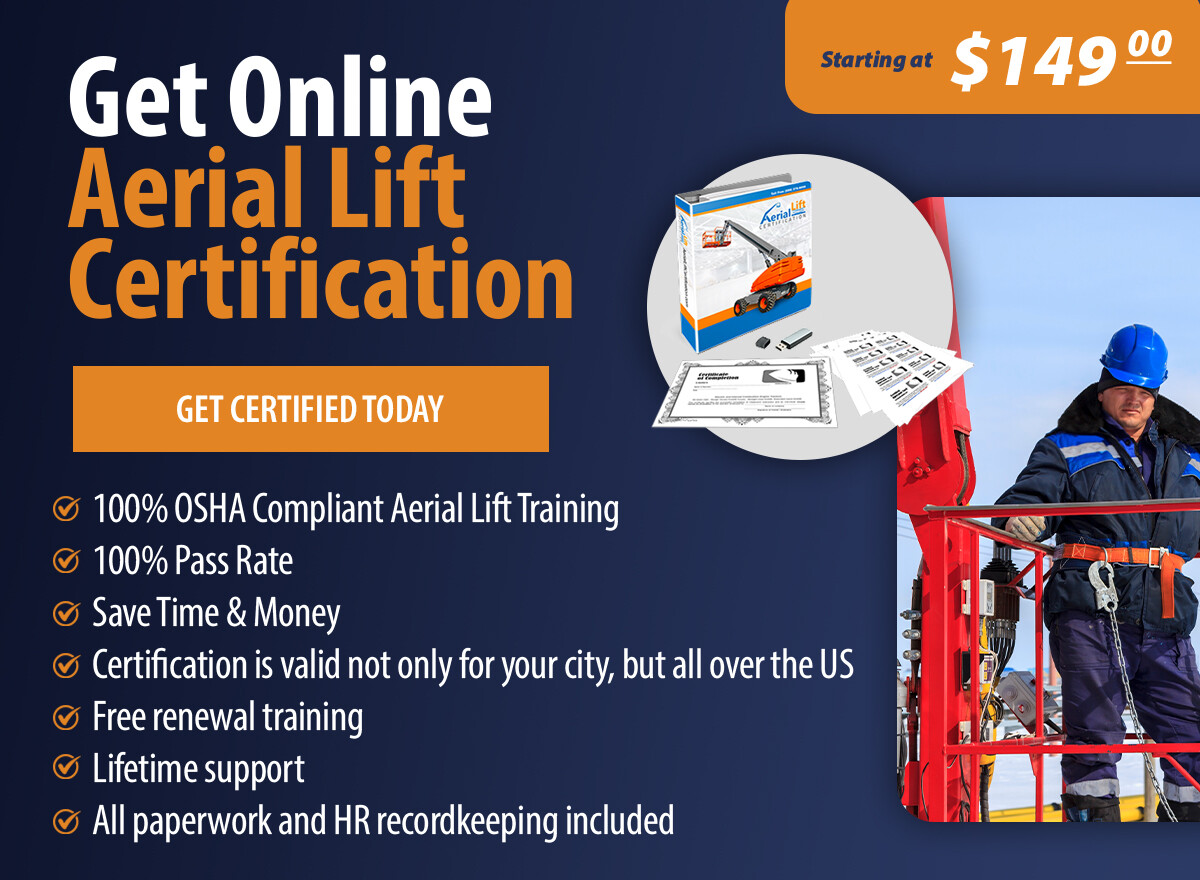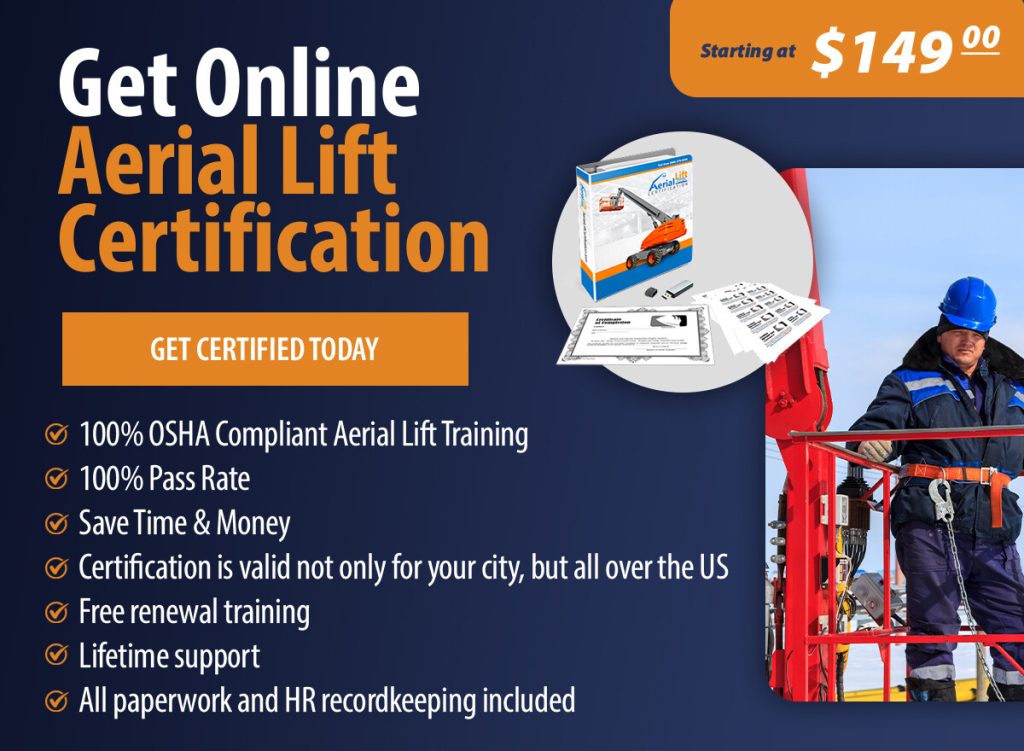 If your company uses aerial work platforms (AWPs), mobile elevating work platforms (MEWPs), and other aerial lifts, you need New York aerial lift certification for every operator. With AerialLiftCertification.com, you can ensure 100% OSHA compliance for your entire AWP fleet with our aerial lift certification in New York.
Our  training kit program allows your workers to get New York aerial lift certification online in just a few hours. After certification, they're ready to operate all AWPs in New York and everywhere else in the U.S. Our popular Training Kit is only $299 and certifies any amount of employees at one great price!
How to Get Aerial Lift Certified in New York
ALC offers many benefits for New York aerial lift certification, and it's super easy to get your workers OSHA complaint. Not sure how to get aerial lift certified in New York? Here are the simple steps: 
Sign Up

– Employers can sign their workers up with CertifyMe.net by creating an account.

Choose Forklift Course

– We offer a variety of forklift certifications depending on the type of forklift your operator will be driving, for example, rough terrain forklifts or pallet jacks (see our offered courses in the image below). Choose the courses needed and check out.

Complete Online Training

–  Operators can complete the training in their own time and at their own pace from any device. Upon completion, workers will need to take and pass an online test to demonstrate their skills. There's zero pressure, they can take the test as many times as needed to pass.

On-Site Evaluation

– An on-site employee of yours must provide a hands-on evaluation. Don't have an operator trained to give these hands-on evaluations? Check out our

train-the-trainer course

that teaches operators how to train others and give this evaluation, complete with a checklist.

Print Your Operator Card

– Once this final step is complete, your operator will be certified to drive a forklift in California and throughout the United States! Employees can

print their ope

r

ator card and certificate

directly from our program for proof of certification.
Once certified, your employees will understand OSHA safety regulations – it's a win-win for your employees and your company in general!

Why Pick ALC for New York Aerial Lift Certification?
All certified employees with their aerial lift certification in New York are ready to run your AWPs, scissor lifts, MEWPs, and more. Here are some benefits ALC provides:
Quick training: most employees complete their training in 60 minutes
Affordable: your payment covers ALL employees
FREE renewal training:

aerial lift certification in New York

expires after 3 years. At that time, all renewal training is provided at no additional cost

100% OSHA compliant: our

New York aerial lift certification

is recognized by OSHA, so your employees and company are covered in case of accidents or injuries

On your time: every student completes their

aerial lift certification in New York

at their own pace.



New York Aerial Lift Certification FAQs
Here are some of the most common questions we receive about New York aerial lift certification:
Does the Training Cover All Workers?
Our Training Kit is ideal for full OSHA compliance for all your AWP operators. While the hands-on evaluation is completed one worker at a time, you still get the amazing value, especially for larger companies.
What About Aerial Lift Inspections?
Aerial lift inspections will occur if your company has an accident or injury. Without aerial lift certification in New York, your company is subject to fines and penalties – you can even be shut down by OSHA! Always make sure you have a maintenance program in place for your MEWPs..
When Does New York Aerial Lift Certification Expire?
All certification is valid for 3 years. At that time, the credentials expire. But no worries – as an ALC customer, we provide free renewal training…just one of the many benefits of having ALC as your New York aerial lift certification partner.
How Much Can I Be Fined?
This one incident report by the U.S Labor Division added up to well over $100,000!

Get the Best Aerial Lift Certification in New York Today!
Receiving your aerial lift certification in New York is easy with AerialliftCertification.com. Rather than force you or your employees to travel to an offsite facility, take our online course from any device that's the easiest, whether that be a smartphone or desktop. Plus, all aerial lift certification in NYC through ALC includes free 3-year renewal training, so your employees are always up-to-date – no gaps in training or HR certification records! That's very important in case your company is audited by OSHA.
Sign up right now or call us at (888) 278-8896, for the OSHA-compliant New York aerial lift certification from ALC and get your employees compliant today!$59.9