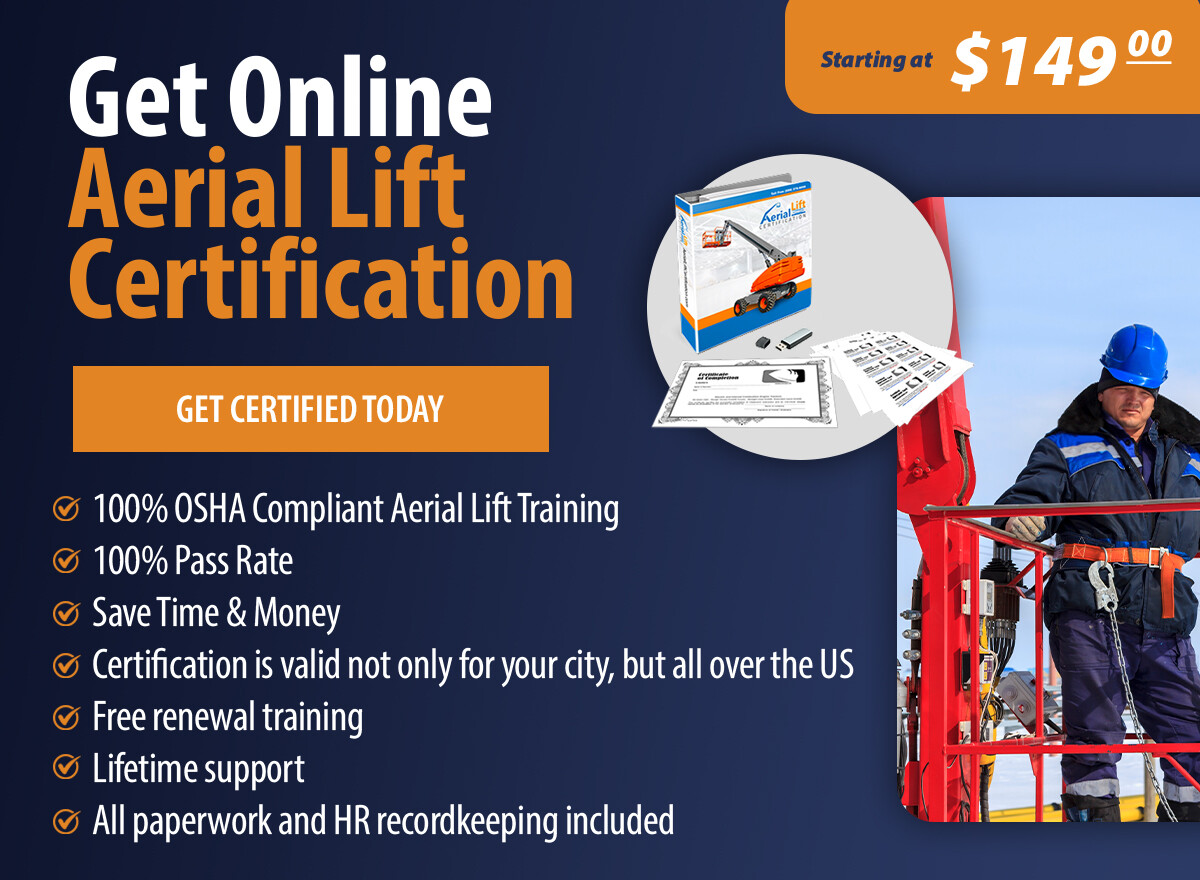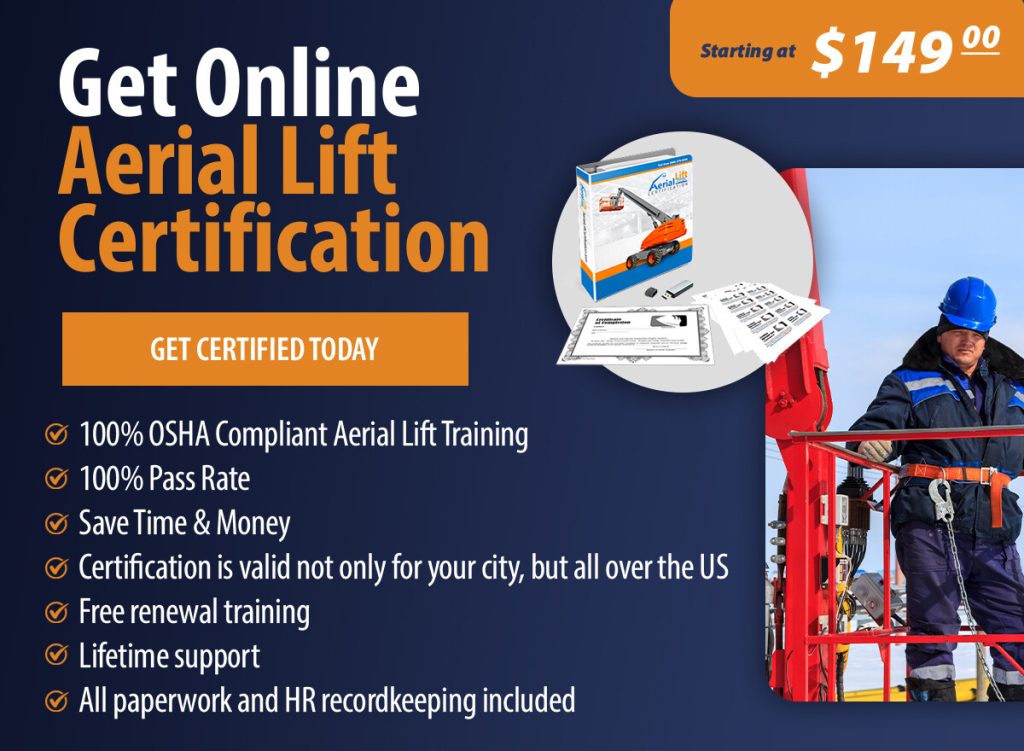 Did you know that one of the leading causes of construction-related accidents is
falling from a height
? Dangerous fall accidents can happen when aerial lifts are involved in a construction job, but you can minimize the risks of a serious accident by obtaining an official
aerial lift certification in Irvine
.
Safety isn't the only issue, though. You also legally need to obtain an Irvine aerial lift certification to remain compliant with OSHA standards. The good news is that you can complete your necessary training 100% online using our
course options
here at AerialLiftCertification.com. Our employee training kit comes at a one-time price of $149.00, and our train-the trainer kit is $299.00. If you bundle the two courses together, then you can get both for a one-time fee of $399.99.
If you utilize our program, then you'll be considered sufficiently trained to operate aerial lifts not only in Irvine but across the entire nation.
How Online Aerial Lift Certification in Irvine Works
Thankfully, learning how to get aerial lift certified in Irvine is simple when you purchase our
training kit
materials. You won't have to miss time off of work or attend a class somewhere off-site. Here are the steps you'll take if you want to get certified with us:
Employers Should Sign Up on Our Platform

: First, employers will sign up on our platform. Employees can also sign up themselves if they are the ones who will be paying for the certification.

Choose a Training Program

: Next, choose a training program that will work best for your team. Select the course(s) and then pay for the materials.

Employees Will Take the Class

: The person seeking certification will next go through all the educational materials. Employees can take as much time as they need to go through the materials, and they can do so on any device that can connect to the internet.

Online Quiz Portion

: After going through the training material, employees will need to complete and pass an online quiz.

On-Site Test

: Finally, a

certified trainer

should conduct an on-site evaluation with the employee to ensure the person can demonstrate their ability to operate an aerial lift.

Print Proof of Your Certification

: If the on-site evaluation goes well, then the employee can print off the proof of their certification and their operator card.
Once these six steps are completed, the employee will be considered fully and sufficiently trained to use and operate aerial lifts per
OSHA standards
. If any future inspections occur, then you can rest assured that your aerial lift operators are compliant with the law.

Why Choose Aerial Lift Certification for Irvine Aerial Lift Certification
Since obtaining an
Irvine aerial lift certification online
is a lot easier than attempting to certify yourself in-person, our choice is already a preferable option for most. We also offer the following advantages:
Instant Access

: Access training materials anytime, anywhere with internet

Free 3 year renewals

: Aerial lift

certifications expire

, but the good news is that we offer unlimited free renewals.

Cost Effective

: If you purchase our

bundle and save

option, you can train an unlimited number of employees for a one-time fee for life.

Fast and Simple

: Most employees can complete our training within an hour

Access to proof of training

: Easily get proof of completing training by printing it directly from our site in the event of an

OSHA inspection
As if those perks weren't attractive enough, we're also willing to return your money to you if you're not satisfied with our program.
FAQs for Irvine
Do you have more questions about the certification process in Irvine? Below, we'll go over some of the most
frequently asked questions
about
aerial lift certification in Irvine
.
Are Aerial Lift Accidents Avoidable?
Almost all aerial lift accidents are the result of human error and negligence. One of the best ways to avoid an aerial lift accident is to ensure that your employees are fully trained and certified to operate aerial lifts. Training will help reduce both injuries and fatalities.
Who is Liable for an Irvine Aerial Lift Accident?
If you use aerial lifts at work, then you're legally responsible for ensuring employees are trained, certified, and familiar with the equipment. If anything goes wrong, you could be
held liable
.
What happens if I don't provide training for my AWP operators?
If your employees are in an accident, and an OSHA audit shows they don't have Long Island aerial lift certification, your operators are subject to
 crippling fines and penalties
.
What happens if I don't provide training for aerial lift inspections?
ALC recommends regular maintenance as part of a sustainable, safety-first company culture.
 Aerial lift inspections
 are part of this process – and we'll help you establish a plan that works for your company
Does ALC offer other resources beyond training?
Absolutely! From
 aerial lift safety checklists
 and friendly customer support for all your questions, you have a reliable, always-ready training partner with ALC!

Be Prepared with Aerial Lift Certification in Irvine
You never know when OSHA will make an unannounced visit to your workplace. Avoid the risks of safety violations that can result in negative publicity, work delays, hefty fines or worse yet, accidents that cause injuries or even deaths of employees by having your aerial lift operators train through ALC's fast, convenient and affordable training programs. To ensure you and your Irvine aerial lift operators are in compliance with current OSHA regulations, 
contact us online
 or call us at
888-278–8896
to get started today. Or, you can
click here
to launch your new safety program ASAP!