Need Training & Certification With Your JLG Aerial Lifts? ALC Can Help Today!
JLG Industries, Inc. is one of the most popular aerial work platform (AWP) manufacturers in the world. Based in McConnellsburg, PA, JLG features a reliable, high-performance fleet of aerial work platforms  (AWPs) and mobile elevating work platforms (MEWPs), including:
• Scissor lifts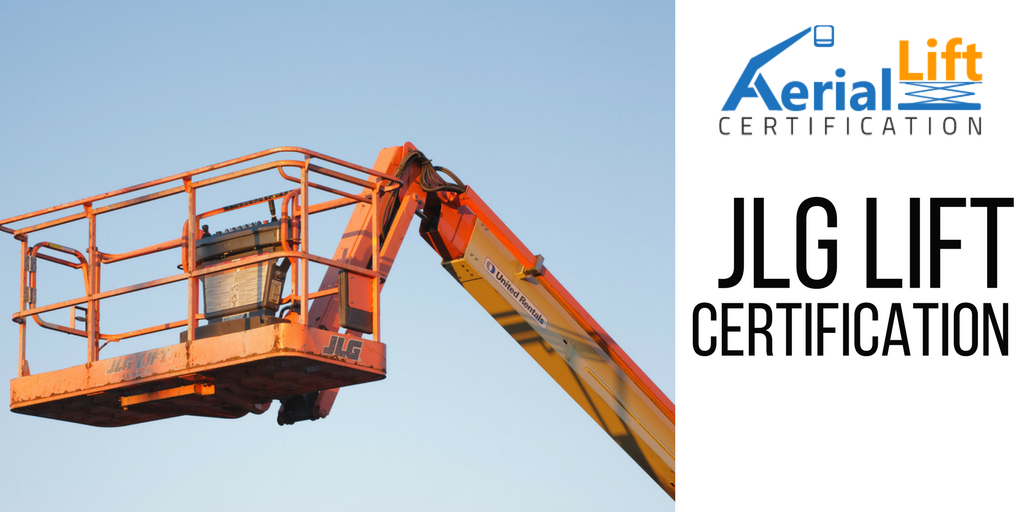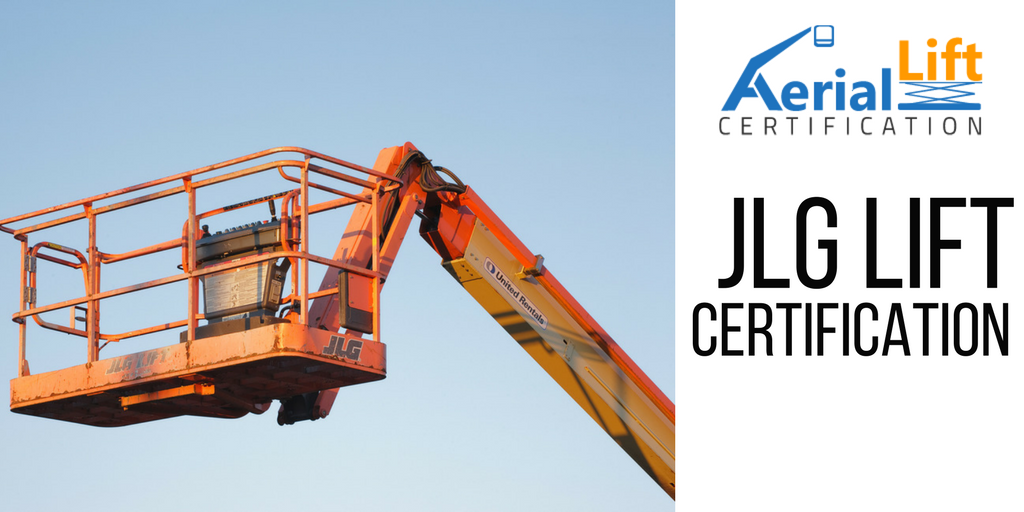 • Telehandlers
• Towable boom lifts
• Indoor scissor lifts
• Manlifts
• And more
JLG's equipment represents a significant market share of the construction, maintenance, repair, and manufacturing industries – just to name a few. Established by founder John L. Grove, JLG has always been a go-to AWP manufacturer for the construction industry. Once Grove established a crane company, he moved to design equipment specifically for maintenance & construction. These machines were made to lift employees rapidly and safely – and thus JLG lifts were born!
In 1970, JLG sold their first lift. Since then, the company has been a staple of the construction & maintenance manlift industry. JLG aerial lifts continue their reputation for reliability, performance and safety to this day.
If you're not sure your knowledge of JLG lifts is current, a thorough training review can help get you up to speed. AerialLiftCertification.com is a leader in aerial lift certification & training, including JLG manlift training.
Enjoy the Benefits of JLG Lift Certification
AerialLiftCertification.com covers all different JLG AWPs, different aspects of JLG aerial lift training, JLG boom lift operating instructions, and other OSHA training content to give you the best possible JLG lift training. Once complete, you're qualified to operate JLG aerial lifts, scissor lifts, and other AWPs for any company in the United States.
Our JLG lift training courses include three different modules:
This training course explains JLG lift training and JLG AWP operation from an OSHA safety expert's point of view. It's ideal for employees looking to become their company's main OSHA training source.
Includes JLG AWP training, JLG lift instruction, regular JLG training, and other key OSHA compliance instruction. This program is very popular with both employees and employers interested in JLG aerial lift training. If your company needs JLG lift training, look no further than the Training Kit.
If you can't decide between our two JLG lift training courses, the Bundle Package is for you. You'll get the Train a Trainer and Training Kit courses, along with JLG AWP training, JLG lift training, and more. This is one of our most popular JLG training packages.

Need JLG Lift Certification?
Aerial Lift Certification offers comprehensive OSHA training for all kinds of widely-used aerial lifts and scissor lifts, including JLG online training. We proudly offer courses that provide detailed instruction for lifts made by JLG.
JLG online training is important for both employees and employers since OSHA compliance is mandatory for all aerial lift and scissor lift operators in the U.S. AerialLiftCertification.com offers a complete range of JLG training courses to help with all of your OSHA training needs!
Why Get JLG Aerial Lift Training and What Is Covered in the Course?
If you're an aerial lift operator, getting JLG aerial lift training is essential for a variety of reasons:
✓

 JLG lift certification

Your employers are responsible for JLG lift certification, which means you'll operate all JLG machinery more efficiently – and much safer – than you otherwise would. In the event of an OSHA audit, you and your employer are covered with AerialLiftCertification.com! Our JLG online training covers everything you need to know about OSHA compliance!
✓ 

Safety

A well-trained JLG lift operator is simply a better JLG lift operator. With JLG lift certification from AerialLiftCertification.com, your employees have all the latest OSHA training. Our JLG manlift training makes your entire workplace safer!
✓ 

Operating JLG Manlifts

Our JLG online training includes safety information and operating techniques to help any worker safety operate JLG manlifts. Plus, with the employer hands-on certification, all of our JLG online training is verified and confirmed before actually operating the equipment!

If you're an employer, JLG training is essential for all of your employees. OSHA requires aerial lift training for all employees, and our modules will get your entire workforce OSHA compliant in no time!

Not many companies that use JLG aerial lifts can handle training and certification. AerialLiftCertification.com specializes in JLG certification, and our prices fit any budget! ALC is the best place to receive JLG aerial lift training – sign up today!

If you've delayed  JLG lift certification previously, don't wait any longer – contact AerialLiftCertification.com today.
What Types of Jobs are Available with JLG Aerial Lift Training?
Once you receive JLG training and lift certification from AerialLiftCertification.com, a whole world of job possibilities opens up. Whether you hire the following positions or work in these fields, here are just some professions available to those with JLG aerial lift training:
✓ Airplane maintenance
✓ Heavy equipment rigging
✓ High-rise window crew
✓ Construction work (electrical, mechanical, etc.)
✓ Facilities repair & maintenance (including stadiums and other large venues)
✓  Large equipment assembler
✓  And more
JLG Manlift Training and Other FAQs
1. What is JLG training?
JLG training involves the training and hands-on evaluation to make an aerial lift operator OSHA compliant. ALC offers JLG online training, along with employer safety tests to confirm compliance.
2. How does JLG online training differ from other instruction?
It's much less expensive and more flexible for employers. Instead of pricy JLG manlift training, employees can take the test at their own pace prior to employee evaluation.
3. Speaking of costs, how much does it cost to rent JLG lifts & other equipment?
The answer depends on what type of equipment you need, and the duration of your project. For example, JLG Electric & Hybrid Boom Lifts and heavy-duty telehandlers are more expensive to rent than JLG scissor lifts. The general cost of JLG equipment rental is usually reasonable, since JLG lifts are widely available anywhere. For some general information, check out one of our recent articles on the subject.
4. How do you run a man lift?
Man lifts are controlled from the bucket, with a variety of directional controls to safety elevate workers. Not all aerial lifts are the same, which is why the employer evaluation is so important for JLG manlift hands-on training. These evaluations are just one aspect of JLG aerial lift training required by OSHA.
5. How do you start the JLG lift from the basket?
The JLG Boom Lift Drive Orientation System is thoroughly explained on the JLG website.
JLG Aerial Lift Training – Get OSHA Compliant with ALC
From understanding the difference between JLG boom lifts and telehandlers to other basic safety principles, ALC is here to help your company become compliant in no time at all!

How can ALC assist with your JLG manlift training & certification?
Our Training Kit is a great way to boost your JLG aerial lift training program. This popular course covers basic safety concepts and other OSHA compliance issues. Perfect for beginners and veteran operators alike!
Need some in-house expertise with your JLG aerial lift certification? Try ALC's Train the Trainer JLG manlift training, which gives you an on-site, always available safety expert and training coordinator.
Can't decide between the two for your JLG lift training needs? Go with the ALC Bundle Package, which includes the Training Kit and Train the Trainer courses for the reduced price of just $399!
Take the next step with your JLF aerial lift training today. ALC's rapid, responsive training methods will have you OSHA certified in no time, ready to operate vintage and late-model JLG scissor lifts, aerial lifts and telehandlers.
If you have any questions about our JLG manlift training programs, give us a call at 888.278.8896. We'll help with all of your OSHA aerial lift and scissor lift training needs!