Give Your Employees Aerial Lift Certification in Miami | 100% OSHA Compliant Courses | Free Renewal Training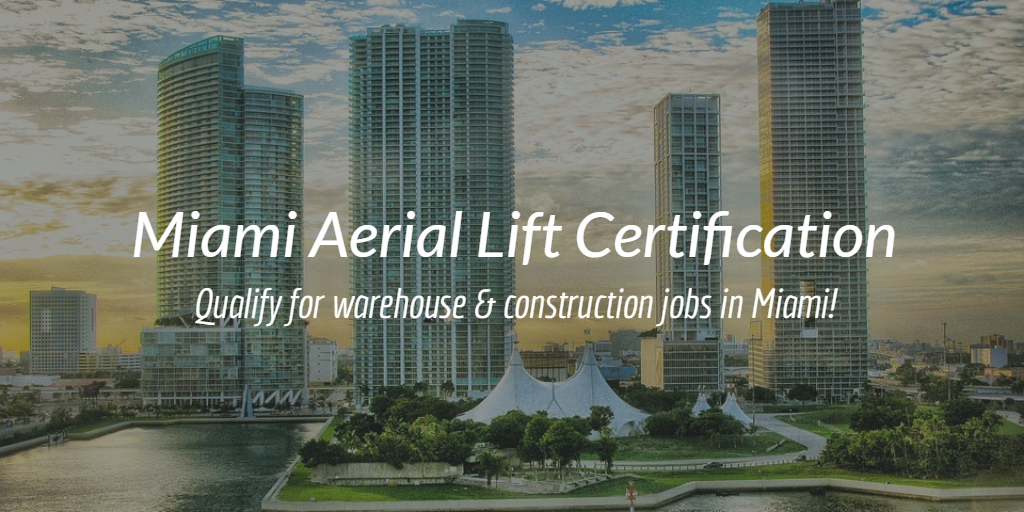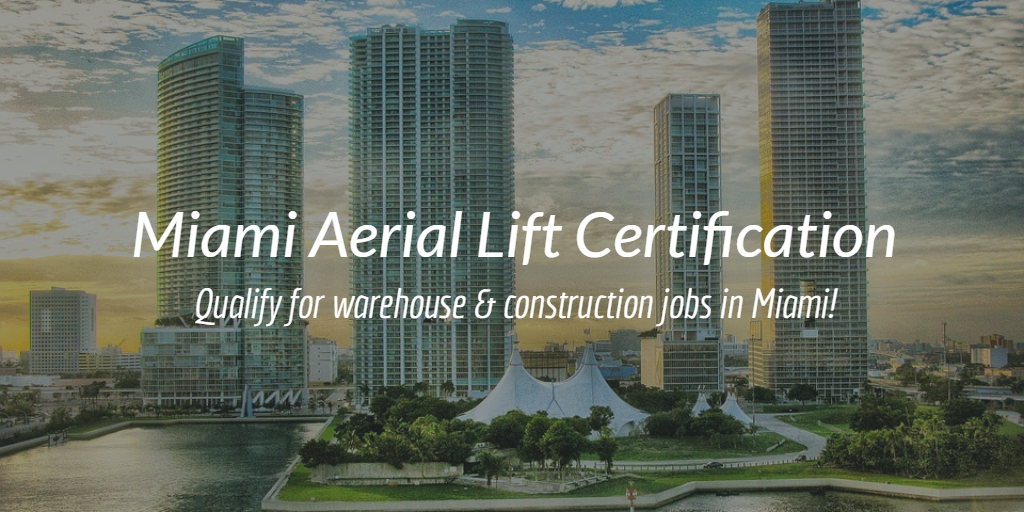 If you use aerial lifts in your business and employ operators who aren't certified, you need to learn the importance of Miami aerial lift certification and where to get it, especially if you're currently non-compliant.
AerialLiftCertification.com, the leader in online aerial lift and scissor lift OSHA training, offers a complete line of courses to help with your certification aerial lift training in Miami. With our training courses, you're covered in case of accidents, injuries, and other aerial lift or scissor lift mishaps.
Our aerial lift certification in Miami includes the following benefits:
✓ Online format for convenient learning options
✓ Outstanding value
✓ Free renewal training included with your purchase of ALC's Miami aerial lift certification
✓ Friendly, informative customer service
✓ And much more
The best time to get your aerial lift certification in Miami was yesterday. Don't put it off any longer; if your employees aren't up-to-date with compliance and training, expensive OSHA fines and penalties are probable in the event of an accident.
Sign up today and get started with your aerial lift certification in Miami!
Aerial lift certification in Miami: Course Descriptions & Pricing
The ALC Training Kit covers basic safety concepts and other critical aspects of operating AWPs and MEWPs. A great choice for Miami aerial lift certification – and super-affordable, too!
Some companies want their own safety expert, a go-to source for training and safety. With our Miami aerial lift certification Train a Trainer course, that's exactly what we offer!
Miami Aerial Lift Certification value combination!Comprehensive safety, optimal purchasing power – our Bundle Package has it all! Get our Training Kit and Train a Trainer courses with one affordable purchase. If you're looking to get the most value out of your aerial lift certification in Miami, this course is for you!
Sign up today with ALC's Miami aerial lift certification – we'll help you become compliant with OSHA!

Why is Aerial Lift Certification in Miami Important?
Aerial lifts can be dangerous and cause accidents on work sites every year. The best way to prevent accidents from happening is through quality Miami aerial lift training that educates operators how to recognize and avoid hazards.
If you are an employer and have untrained workers, you may be facing serious fines and legalities in the future. You see, OSHA checks up on workplaces like yours, and if they find that any of your workers are untrained and there have been accidents involved with aerial lifts, they can write up fines that well exceed $100,000. You may also face legal action if a worker was seriously injured or killed and didn't have the proper training to protect their safety.
That's why aerial lift certification in Miami is so important. It helps protect your workers (and co-workers) from serious accidents and injuries. Plus, it helps limit your possible liability if an accident happens. Whether you're an employer looking to hire, or a scissor lift or aerial lift worker looking for aerial lift jobs in Miami, AerialLiftCertification.com offers the OSHA-approved courses you need to become – and remain – compliant.
If you hire aerial lift or scissor lift operators for any of these positions, you need aerial lift training and certification in Miami for your entire workforce – no questions asked. And with AerialLiftCertification.com, there are no worries. We'll take care of your aerial lift certification for Miami, Dade County, and all over the Sunshine State.
As the employer, getting your workers their Miami aerial lift certification will qualify them for various roles in your business, and allow you to boost productivity and your bottom line.
With a growing economy, aerial lift jobs in Miami project to have strong demand. Both employers and employees will optimize their opportunities with our complete, comprehensive aerial lift and scissor lift certification training for Miami and the greater Miami-Dade County region. Get your aerial lift certification in Miami now!
What Are OSHA's Requirements for Miami Aerial Lift Certification?
According to OSHA, employers are required to provide aerial lift certification training to all employees who work with or near aerial lifts. This training must be led in a safe environment by qualified personnel.
Aerial lift training for Miami must also cover these topics and include these components:
– The top aerial lift hazards and how to recognize them
– How to avoid hazards to prevent accidents
– How to perform daily equipment inspections
– When and how to inform personnel of needed repairs
– Proper operational, positioning, and fall protection protocols
– The correct load and height capacities
– Manufacturer's requirements
– Demonstrations of how to operate an aerial lift properly
– Formal written instruction
– Practice operating the equipment
– Skills evaluation

Convenient, Affordable, and Fast Aerial Lift Certification in Miami
The most populous city in Florida, Miami is an international city that is a melting pot of colors, cultures, and people. The southern Florida economy continues to boom, and that means aerial lift, aerial work platform (AWP) and mobile elevating work platform (MEWP) employees are in demand, As a business owner, it's important that you take all of the necessary steps to ensure you're up-to-date and compliant with all industry standards, including Miami aerial lift certification.
That's right; just because you need to look for all of the components of a quality program mentioned above, doesn't mean Miami aerial lift certification needs to be expensive and take weeks of your time. The programs with AerialliftCertification.com are online and only take about one hour to complete. You can access the program from any device with the internet. For only $299 the training kit, qualified workers to start working as an aerial lift operator today with the best and easiest OSHA-compliant aerial lift training in Miami.
Here's another advantage AerialLiftCertification.com training and certification in Miami provides: we have training courses available in both English and Spanish. This offers employers a competitive edge, and also helps more workers stay OSHA compliant. With bi-lingual flexibility, convenient online learning, and lifetime support, AerialLiftCertification.com is the #1 aerial lift certification program in Miami.
To learn more, please call us today at (888) 278 – 8896, or start your aerial lift training in Miami by registering now. Thanks for considering AerialLiftCertification.com for all of your Miami aerial lift certification requirements.