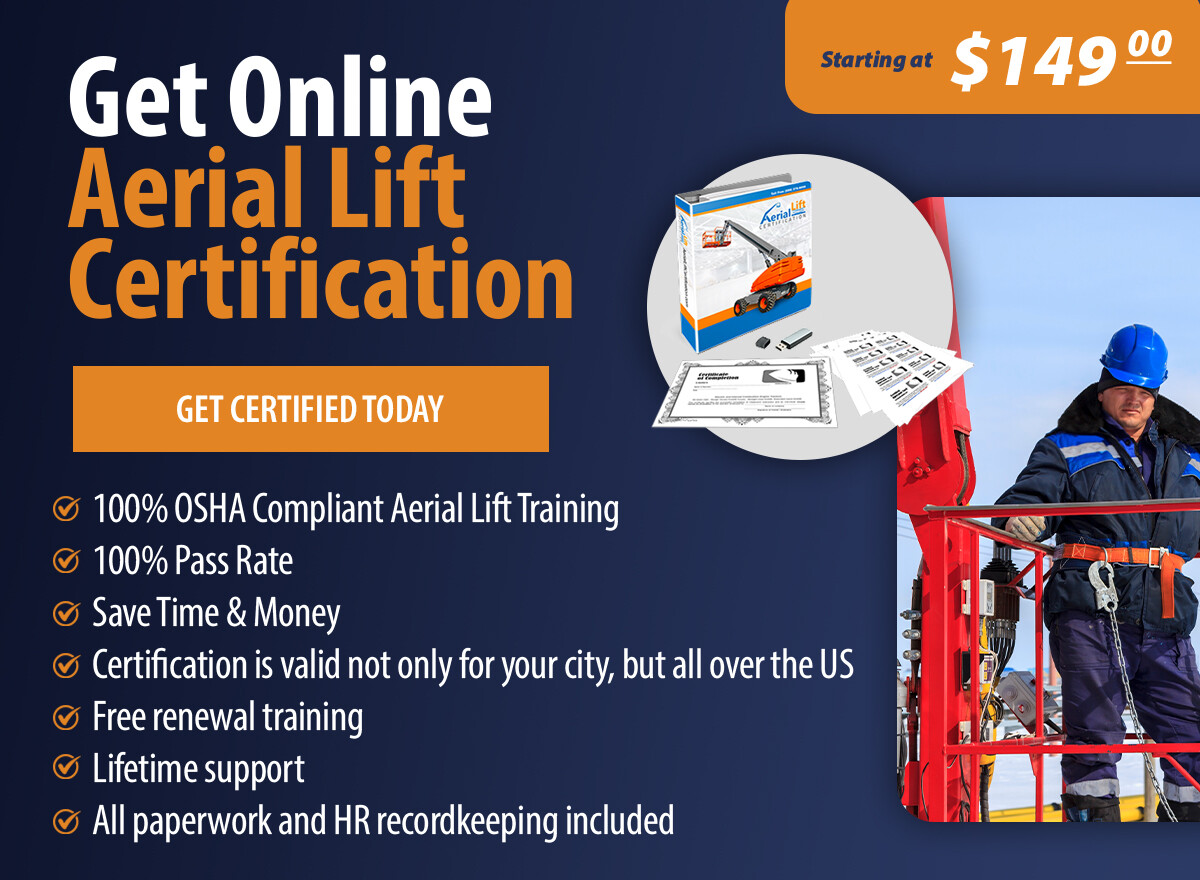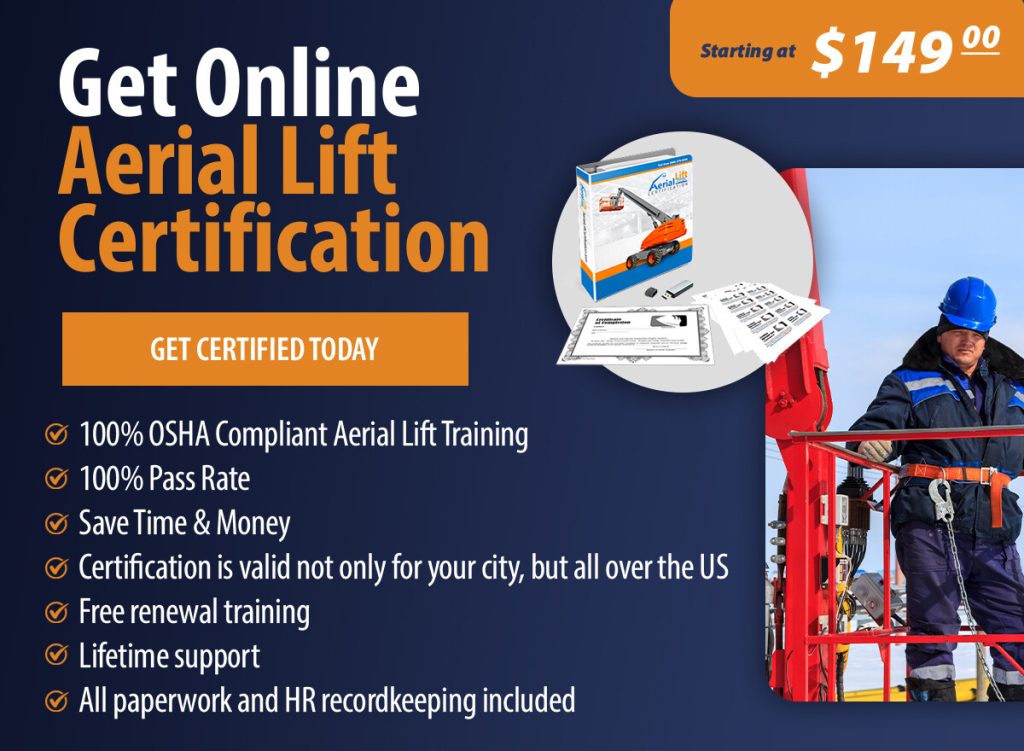 Miami's strong economy always needs workers to operate aerial work platforms (AWPs), mobile elevating work platforms (MEWPs), cherry pickers, boom lifts, and more. And they need to be fully trained and certified.
If you're not sure how to get aerial lift certified in Miami, AerialLiftCertification.com (ALC) is the only training partner you need. With affordable prices, thorough training, and excellent customer support, we're here to help with all your Miami aerial lift certification needs. And with Ariel Lift Certification in your corner, getting trained and becoming OSHA-compliant is easier than ever. No longer is there a need to lose valuable time training off-site. Our training is available online and helps you get employees trained quickly and efficiently.
Our 3 training options for aerial lift certification in Miami include our popular Training Kit for $299. You can also enjoy the benefits of an in-house training expert with ALC's Train the Trainer program, affordably priced at $149. And speaking of affordable prices, why not get both of our courses for the reduced rate of $399? That's what you'll get with our value-added Bundle Package. 
Get your company registered today with ALC, and make sure your company is fully OSHA compliant! 
How to Get Aerial Lift Certified in Miami
All it takes to get aerial lift certification online in Miami is a few simple steps: 
Online registration: Select login info for your company and individual workers.
Select the Miami aerial lift certification you need: Browse our course selection page for course descriptions and more.
Classroom training: ALC's portable, convenient USB flash drives contain plenty of helpful training content – how to avoid accidents, OSHA safety standards, and more.
Pop quizzes: Our tests are proven to help students learn and retain safety knowledge.
Skills testing at your site: Can your workers safely run your aerial lifts? Here's where they'll take what they've learned and apply it behind the wheel!
Print licenses: No waiting for your aerial lift certification in Miami to arrive in the mail – just print and go! 

Why Pick ALC Aerial Lift Certification in Miami?
You'll enjoy the ALC advantage with these benefits:
Get certified in about one hour. On average, workers complete their aerial lift certification in Miami in 60 minutes or so.
Great customer support. We're always here to assist with your Miami aerial lift certification. Just contact us anytime.
Prices that won't bust your budget: ALC makes OSHA compliance affordable – everyone should have access to training, including you!
Unmatched convenience. Your workers can take the classroom / USB training anytime, anywhere! 

Miami Aerial Lift Certification FAQs
Have more questions about Miami aerial lift certification online? Check out these FAQs:
Can ALC assist with aerial lift maintenance and inspections?
Absolutely. Our online content includes things like aerial lift safety checklists and tips for sensible aerial lift inspections to boost safety awareness.
Can my company be fined by OSHA?
In the case of an accident or injury, yes. But you can avoid the most expensive OSHA fines by having proof of Miami aerial lift certification from ALC!
When does my aerial lift certification in Miami run out?
After 3 years, your AWP workers will need renewal training. And ALC offers this for FREE!
Go ahead and make the smart, affordable choice, and sign up for aerial lift certification in Miami today!

Convenient, Affordable, and Fast Aerial Lift Certification in Miami
The most populous city in Florida, Miami is an international city that is a melting pot of colors, cultures, and people. The southern Florida economy continues to boom, and that means aerial lift, aerial work platform (AWP) and mobile elevating work platform (MEWP) employees are in demand, As a business owner, it's important that you take all of the necessary steps to ensure you're up-to-date and compliant with all industry standards, including Miami aerial lift certification.
That's right; just because you need to look for all of the components of a quality program mentioned above, doesn't mean Miami aerial lift certification needs to be expensive and take weeks of your time. The programs with AerialliftCertification.com are online and only take about one hour to complete. You can access the program from any device with the internet. For only $299 the training kit, qualified workers to start working as an aerial lift operator today with the best and easiest OSHA-compliant aerial lift training in Miami.