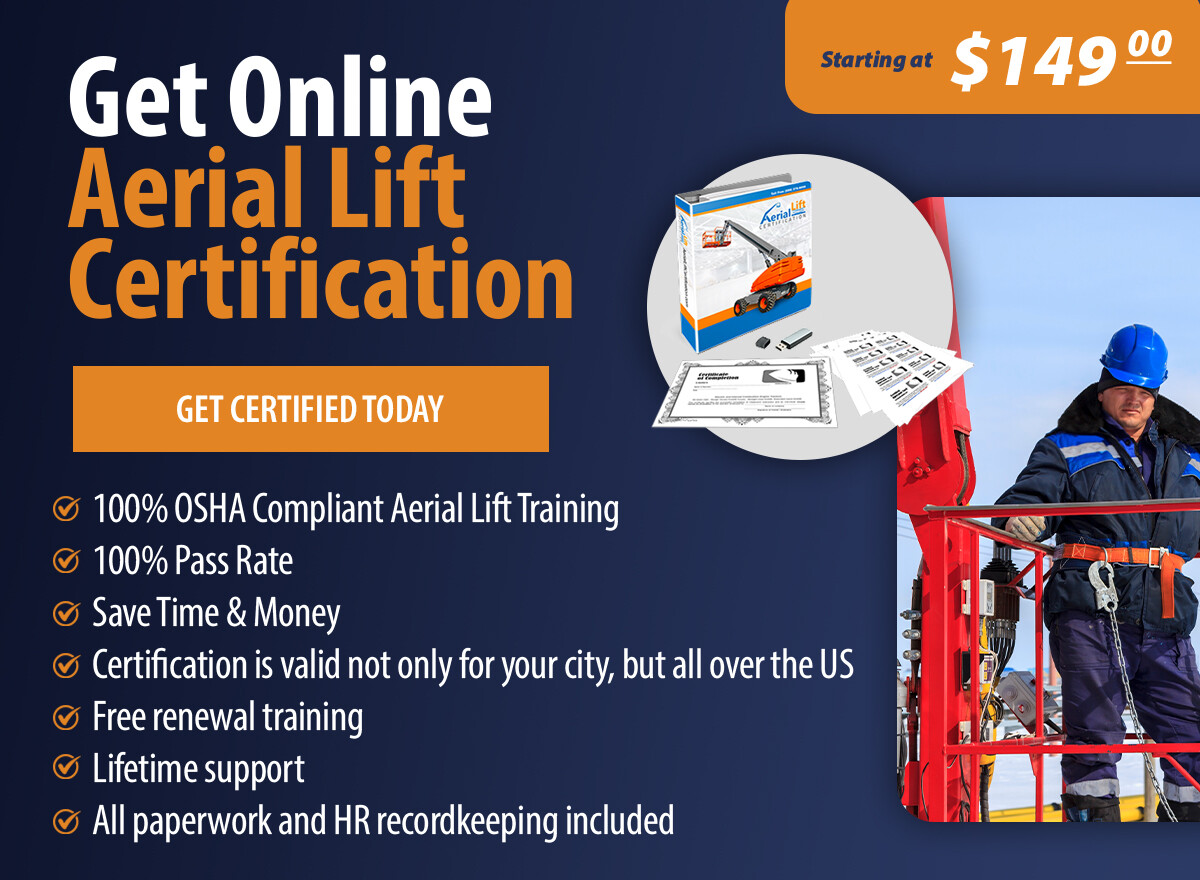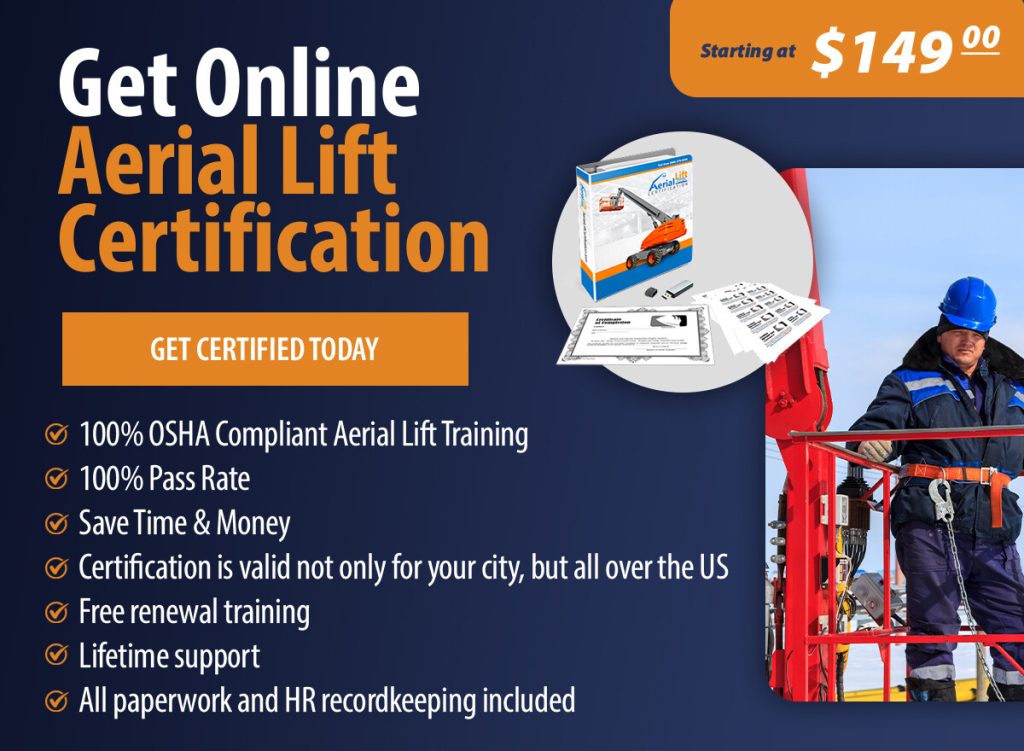 Do you plan on utilizing an aerial lift on a construction project in the Sacramento area? If so, then you need to get informed about the rules and regulations surrounding aerial lift certification in Sacramento first. According to the rules set forth by OSHA, any person who operates a forklift must be sufficiently trained before getting started.
The good news is that you don't have to attend any in-person training if you opt to get your Sacramento aerial lift certification online through AerialLiftCertification.com. With our course options, you can choose to pick a course to train employees for $149, or you can opt to purchase a train-the-trainer kit for $299. If you're interested in certifying your whole team, then you can purchase both courses at a discounted price of $399.99.
With our online training kits, you'll be certified to operate aerial lifts in not only Sacramento but across the entire nation.
How Online Aerial Lift Certification in Sacramento Works
Getting certified to use an aerial lift doesn't have to mean missing time off of work, going offsite, and attending in-person classes. Instead, you can opt to take the educational portion of your training completely online. Are you interested in learning more about how to get aerial lift certified in Sacramento using our training kit options? Here's how it works:
Employers Should Sign Up on Our Platform

: Employers should be the party to initially sign up with our platform since they'll be the ones to incur the costs of the program.

Choose a Training Program

: Employers should choose the training program that best fits their needs. If you're looking to only certify a few employees, then you can order the basic training kit. If you want to also order our train-the-trainer kit, then you can get both programs for a one-time fee of $399.99. You can pay for the program directly on our website.

Employees Will Take the Class

: Directly after paying for the program, an unlimited number of employees can browse through the online training materials on their own time.

Online Quiz Portion

: While going through the online material, employees will be asked to pass an online quiz. Passing this quiz is necessary for certification, but employees have an unlimited number of tries to pass the exam.

On-Site Test

: Next, employees should go through an on-site test with a

certified trainer

to demonstrate their competency with the aerial lift.

Print Proof of Your Certification

: After passing the on-site test, employees can print proof of their certification directly from our training kit. The employee should keep a copy of their operator card with them while at the job site.
After going through all of these steps, the employee will be considered sufficiently trained to operate aerial lifts per OSHA standards. If you're an employer, then it's a good idea to keep copies of your employee's proof of certification on site. That way, if you ever face an OSHA inspection, then you can rely on your records to prove your compliance.

Why Choose Aerial Lift Certification for Sacramento Aerial Lift Certification
Obtaining a Sacramento aerial lift certification is more than just a legal compliance issue. It's also a safety issue. Training reduces the risks of injuries. Here are a few reasons to work with us:
24/7 access to course materials

: Employees can train anywhere with internet access

Free 3 year renewals

: Since

aerial lift certifications expire

, we offer free renewals

Affordable and cost-effective

: You only pay once and with our

bundle and save

option, you can train an unlimited number of employees for a one-time fee

Access to proof of training

: Maintain documentation and proof of training in the event you experience

aerial lift inspections



If you go through our training and aren't completely satisfied, then we'll offer you your money back.
Frequently Asked Questions About Sacramento Aerial Lift Certification
Below, we'll go over some of the most frequently asked questions regarding getting aerial lift certified in Sacramento.
Are Aerial Lifts Used A lot in Sacramento Construction Jobs?
Statistics show that the construction industry in Sacramento is "strong" with an expected upward trajectory over the next several years. Aerial lifts play a crucial role in Sacramento considering they help technicians and linemen reach electric lines, forestry officials maintain telecommunication lines, and highway officials put up signs and lights. Aerial lifts are also often used in construction jobs.
What happens if I don't provide training for my AWP operators?
If your employees are in an accident, and an OSHA audit shows they don't have Long Island aerial lift certification, your operators are subject to crippling fines and penalties.
What about aerial lift inspections?
ALC recommends regular maintenance as part of a sustainable, safety-first company culture. Aerial lift inspections are part of this process – and we'll help you establish a plan that works for your company
Does ALC offer other resources beyond training?
Absolutely! From aerial lift safety checklists and friendly customer support for all your questions, you have a reliable, always-ready training partner with ALC!

Complete Your Training with AerialliftCertification.com Today
AerialliftCertification.com is an online training platform that makes it convenient and affordable for workers to receive quality, OSHA-compliant Sacramento aerial lift certification. The program can be accessed 24/7 on any device with the internet, and only takes about one hour to provide you with all the information you need. Sign up today and print your certificate instantly after completing the Sacramento aerial lift certification program!
Give ALC a call with any questions you have about aerial lift certification in Sacramento. We are the #1 option for companies all across the country and our aerial lift certification in Sacramento travels with employees, no matter where they work. Call us today at (888) 278 –8896, and see how we can help. We look forward to helping with all of your aerial lift training in Sacramento.