How to Choose the Correct Aerial Lift for the Job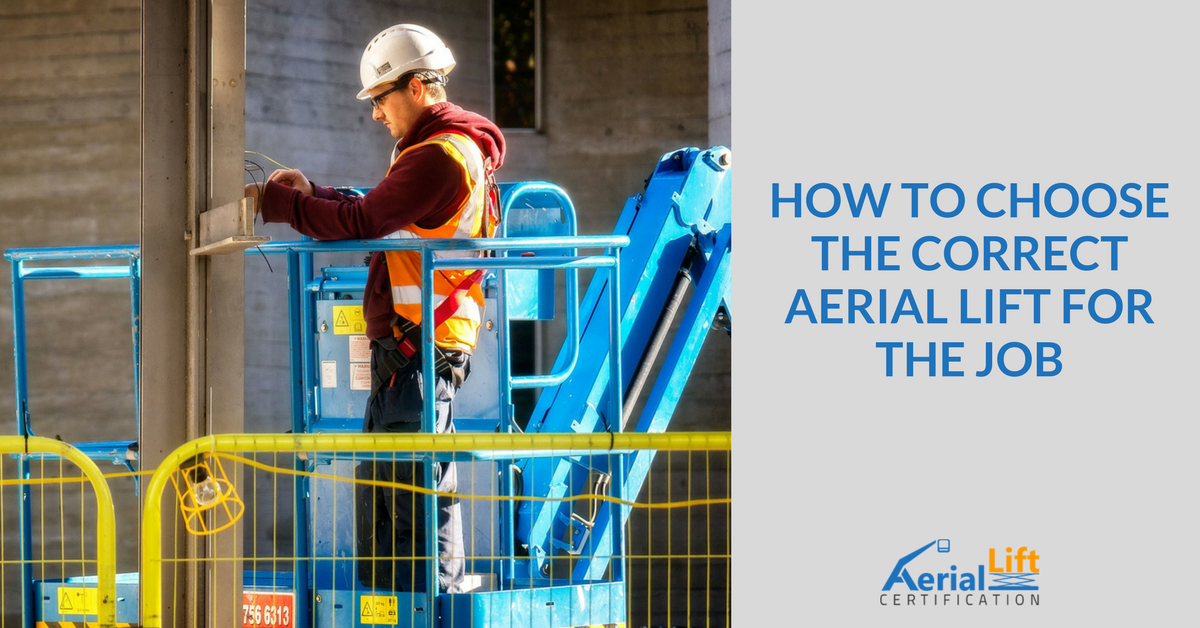 Today's world would be much harder to build, maintain and repair without aerial lifts.
They are required equipment for many industries, are used on a wide range of aerial access equipment jobs. Common applications include:
Construction jobs
Washing windows
Building façade maintenance and repair
Landscaping and trimming trees
Repairing power lines
Installing roadway signage
Indoor lighting, piping and ceiling maintenance
HVAC maintenance and repair
Fire fighting
Aerial lifts are even used to rescue cats stuck up in trees. (They're safer than ladders and can go much higher.) If there's a need for people to work safely up in the air, it will likely be done with an aerial lift.
Different Lifts for Different Aerial Access Equipment Jobs
Aerial lifts are designed to help workers stay safe at height. Even so, aerial lift jobs involve a certain amount of risk. That's why choosing the right aerial lift for the job is such a critical decision. There are many types and models of aerial lifts. The five most common are:
Articulating boom lifts
Telescopic boom lifts
Scissor lifts
Cherry pickers
Spider lifts
Each have their own set of design features and capabilities. For example, some are electric, some are gasoline powered. Some can only go straight up and down while others can extend horizontally. They can all work on a wide range of aerial access equipment jobs. But many jobs call for a specific type of aerial lift.
Suppose you need a lift that can reach up and over obstacles. In that case, the articulating boom is the best choice. If you need a lift for indoor work, in most cases the scissor lift fits the bill. Considering the risks involved in aerial lift work, it's critical to choose the right lift for the job. To make the right decision, ask questions like:
What is the job site like?
Is it indoors or outdoors?
How high will you need to reach?
Do you need horizontal movement while in the air?
Is the job site easy or difficult to access?
How much weight does the aerial lift need to carry?
Answering these questions will make it easy to select the right lift for your aerial access equipment job. Let's look at some examples.
Using a Boom Lift for Exterior Painting
The articulating boom lift is also known as a knuckle lift. It has a platform mounted on an arm and a swiveling base. This allows the operator to get around obstacles and awkward spaces. It also provides access to hard-to-reach areas. Paint jobs require workers to get very close to whatever they are painting. Often, this requires going under or over obstacles to gain access. Using a boom lift for exterior painting is the best choice because it can maneuver better in the air than other lifts.
What about construction jobs, which often take place on rough terrain? Rough terrain articulating lifts are specially designed to operate safely on uneven terrain. These come with stronger, thicker tires more suited to rough terrain. They also use outriggers to provide better stability. For outdoor jobs with a less than ideal working surface, rough terrain boom lifts are the clear choice.
Both indoor and outdoor articulating boom lifts are common types of aerial lifts, and we offer proper training for this type of lift. Our Training Kit, Train a Trainer and Bundle Package courses are designed to help anyone operate an articulating boom lift safely and more efficiently.
Using a Roofing Scissor Lift Truck
Roofing jobs require a lot of workers, materials and equipment. In this situation, using a roofing scissor lift truck is the best choice every time. Scissor lifts only go up and down, which is all you need with most roof jobs. They have large platforms that can lift workers and equipment at the same time. They also provide great stability. This allows them to safety lift and lower heavy loads. Roofing scissor lift trucks also remove the need for workers to climb up and down ladders all day, which is a leading cause of roofing accidents.
When to Use Telescopic Boom Lifts
For the projects that require maximum height for the operator to access the work area, a telescopic boom lift is used. A standing bucket is mounted on a straight, extendable lifting arm. The base sits on a turntable like an articulating boom lift. A telescopic boom lift can only hold one worker at a time. This makes it the best choice for tasks that a single person can handle. For example, electric repairs or window washing.
Telescopic booms can reach in any direction. This makes them ideal for reaching horizontal or vertical work areas. Common job sites that require a telescopic boom lift include water plants, cell phone towers, and window glazing & repair. These lifts are also good for heavy machinery maintenance and power line work. Telescoping boom lifts can reach close to 200 vertical feet. Workers should be aware of power lines, high winds, and other hazards unique to these lifts.
When to Use Bucket Trucks
This type of equipment is also known as a cherry picker. They are typically used to prune trees and landscaping. Power companies often use bucket lifts to access transmission lines. The lifting arm and bucket sits on a standard vehicle. This enables the truck to travel on roads following the traffic speed.
Bucket trucks are also widely used for construction projects, painting, industrial maintenance, and other tasks. This is one of the most widely used aerial lifts in use today. Many workers use bucket trucks as their first aerial lift. Bucket trucks provide a solid foundation for using other types of aerial lifts.
When to Use Scissor Lifts
A scissor lift has limited use compared to the other lifts. It can't handle hard-to-reach areas. It needs to be situated directly below the work site. It can't swivel around or be set at an angle. As a result, scissor lifts are used solely for overhead work.
They are great for working indoors or on flat services. Common jobs include ventilation, air conditioning, and electrical projects. For outdoor projects such as construction sites, all-terrain scissor lifts provide extra stability. They can safely work on many surfaces, including gravel, uneven grades, and concrete. Because outdoor scissor lifts deal with terrain challenges, specific training requirements apply to this type of lift.
At AerialLiftCertification.com, we train workers how to operate all types of aerial lifts properly and safely. Check out our OSHA-compliant training and certification today!
This post was originally published in 2016 and was updated in 2019 to be more comprehensive.