Everything You Need to Know about Cherry Picker Equipment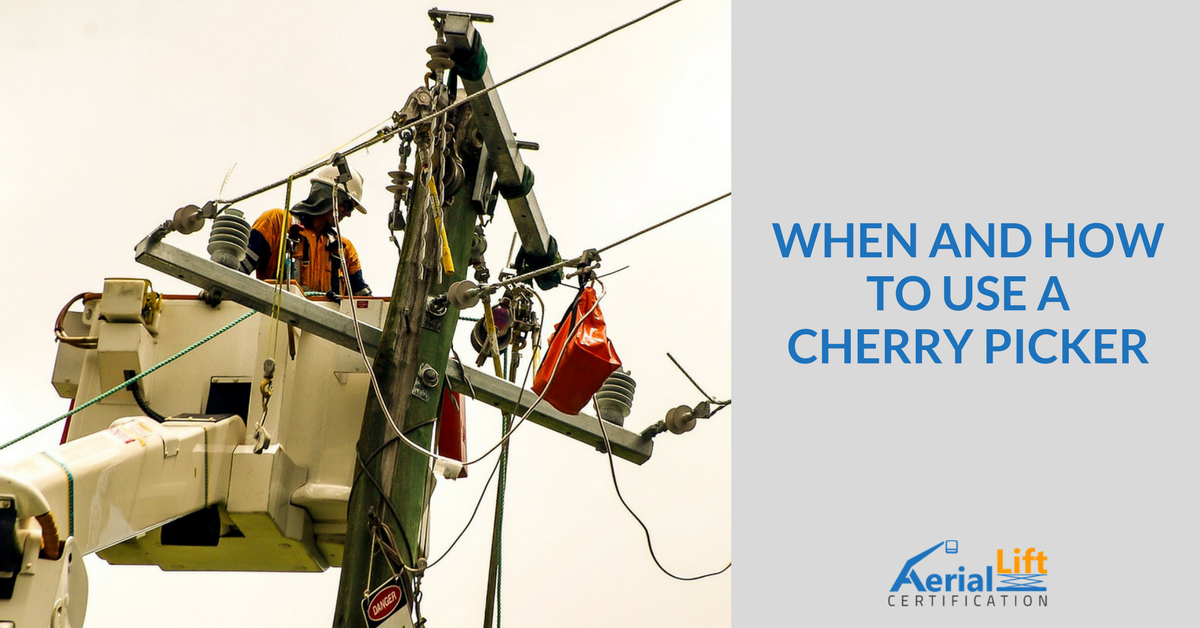 The term "cherry picker" is widely used throughout the aerial work platform industry. But what exactly are cherry pickers, and what are they used for? AerialLiftCertification.com (ALC), the leader in online, OSHA-compliant certification, put together this resource to help anyone understand anything and everything about cherry picker machines – their main tasks, different jobs they're used for, operating tips, and training requirements. 
If you need to learn more about cherry picker equipment, keep reading! And once you're ready to provide your cherry picker training and certification, sign up with ALC – our affordable, accessible modules are great for any company that needs to get their cherry picker operators up to speed and OSHA compliant. Our training features:
Affordable prices

Lifetime support

Up-to-date cherry picker certification

Convenient online access

A unique insight into OSHA regulations – we've been there, done that for learning how to operate a cherry picker

And much more

What Is Cherry Picker Equipment Used For?
A cherry picker is a type of aerial work platform (AWP) and mobile elevating work platform (MEWP) that consists of a bucket at the end of a hydraulic lifting system. Cherry pickers today are used in a wide range of work environments. They are used to lift the operator to otherwise inaccessible areas, such as the top of buildings, high trees, or to wash windows on the side of a skyscraper. Other situations in which cherry pickers can be used include: 
Orchard Picking and Tree Trimming
Cherry pickers got their name from their original use, which was picking fruit from tall trees in orchards. Modern equipment improved the safety in the field when the use of ladders was too risky. Cherry pickers are still used for this purpose today, as well as to trim tree branches and limbs in otherwise unclimbable trees. But as we'll see, cherry picker equipment is used for a variety of tasks that extend (literally) beyond the orchard. Let's take a look at where and how cherry pickers are utilized every day.
Building Maintenance
Tall buildings need to be continuously cleaned and painted. Ladders are not always sufficient, and they present many safety risks. With cherry picker equipment, operators have the ability to maneuver at height for everything from window washing, building repairs, general maintenance, and related tasks. Don't let the "cherry picker" name fool you – this equipment is used for much more than picking fruit!
Telephone and Electrical Pole Servicing
There are thousands of miles of telephone and electricity poles around the world, and cherry pickers are used to maintain and repair them. For all those employed in these fields, cherry pickers are a regular part of their daily routine because they help to ensure they can reach the area needing servicing in the safest manner possible.
Rescue Missions
Cherry pickers have been used to rescue people from high elevations, including malfunctioned roller coasters. Firefighters also use cherry pickers to rescue people trapped in tall buildings. When a ladder is not sufficient or safe, cherry pickers are used to bring those on upper floors to safety. Knowing how to use a cherry picker in rescue missions is a valuable skill for police departments, military units, and more.
Lighting and Filming for Movies and Sporting Events
While designed for practical reasons, cherry pickers are also used to increase the dramatization of many films and theater performances. They are also known as "Condors" and are often used to suspend large lights above film sets when not on a soundstage. They are also used during sporting events to mount camera equipment high into the air to give watchers a birds-eye view of the game. This isn't a typical use for this type of aerial lift, as the specialized planning involved requires collaboration with event planners, maintenance personnel, and facility supervisors. If you'd like to learn how to use a cherry picker to set up lighting, AerialLiftCertification.com has the training you're looking for! Booms are among the most common cherry pickers. Popular boom options include:
Anyone can drive a cherry picker but has to complete aerial lift training that aligns with OSHA requirements. If you're interested in helping your workers earn cherry picker operator certification, AerialLiftCertification.com can help. We provide online, convenient, and affordable cherry picker operator certification training.
Cherry Picker Certification – OSHA Compliance
Not just anyone can operate a cherry picker. In fact, OSHA has strict rules and regulations about the training that's required to use one. AerialLiftCertification.com (ALC) offers a number of aerial lift safety certification courses.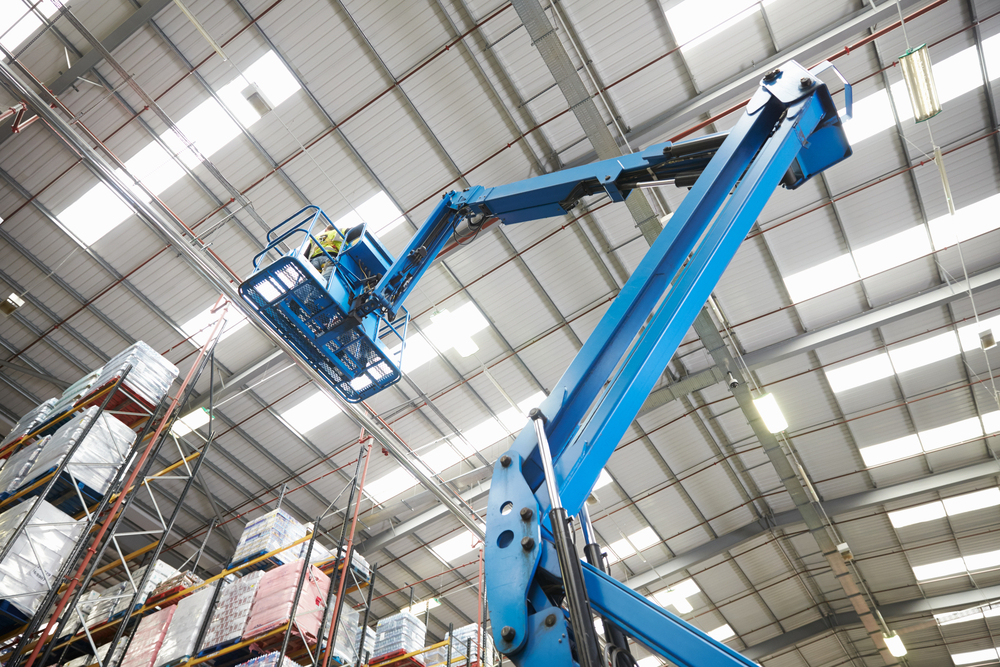 Our cherry picker training starts with a Training Kit for educating operators. Our Train a Trainer package allows you to certify one or more of your workers to train their colleagues. Our Bundle package includes both programs at a discounted price. Additionally, we also offer online cherry picker training and certification courses that can be taken either solo or as part of a group training course. Our interactive training classes meet the standards established under American National Standards Institute (ANSI), OSHA Regulation 29 CFR1910, and the National Fire Institute, too.  Convenience is a huge factor in training. Our materials are available online 24/7, and they can be accessed via a smartphone, tablet, desktop computer, or laptop. Operators can be trained and certified in as little as an hour. These operators can also begin a cherry picker training class at any time and complete it from any location, so long as they have an internet connection. 
How to Operate a Cherry Picker
A cherry picker features a bucket or surface at the end of a hydraulic lifting system, which enables operators to reach high elevations.  When using a cherry picker, an operator should be familiar with OSHA safety guidelines. Here's a basic outline of how to use this type of MEWP.
Before starting work, ensure the operator has OSHA compliant cherry picker training. It's a requirement by law that every AWP or MEWP operator should have up to date cherry picker certification.

ALC has everything you need

to ensure full compliance.

Stability is essential for

cherry picker

safety in any setting. To ensure ground stability, do not park a cherry picker on a slope or incline. If the weather could compromise a job (wind, rain, snow, etc.),

an operator should

check with their safety supervisor to see if he or she should proceed. 

Conduct a risk assessment for overhead hazards. Just some include power lines, trees, buildings, overpasses, etc. 

Before going inside a cherry picker's cabin, secure all personal protective equipment, including safety harnesses,

fall protection accessories

, etc. 

Elevate at a reasonable speed. Don't try to ascend too quickly. Communicate with the vehicle driver when a

cherry picker

needs to be repositioned. 

Pay attention to changing climate conditions during work tasks (see above). This is an important step in how to use a

cherry picker

,

because an operator

can never be too careful. 

Once an operator is finished in the cabin, coordinate with a ground crew for a safe return to the ground level. 

Lower the cherry picker at a reasonable speed. Do not exceed the manufacturer's recommended operating requirements. 
There are several things that cherry picker operators can do to protect themselves and others, including: 
Operate the machine on stable ground 

Avoid using the picker near power lines; if the lift is near power lines, an operator should maintain a minimum distance of 10 ft. for voltages up to 50kV 

Wear a hard hat, safety boots, and other safety equipment 

Follow the manufacturer's operating instructions 

Avoid operating the picker in high winds or other inclement weather conditions 
In addition, a cherry picker operator should inspect their machine before they begin a work project. If any picker defects are identified, the operator should notify their supervisor immediately.

Cherry Picker Machine Tips
With the fundamentals covered, it's important to delve into the tips and tricks that make cherry pickers safe and efficient to use. 
1.Train first
The first step to ensuring cherry picker operator safety on your jobsite is making sure that all workers are OSHA-certified and properly trained in the safe use of the equipment.
2.Follow manufacturer recommendations and settings for your cherry picker machine
Operating your cherry picker according to manufacturer specifications is essential for ensuring optimal cherry picker safety. Always maintain and operate elevating work platforms according to the manufacturer's instructions, and never override hydraulic, mechanical, or electrical safety devices.
3.Create a stable base
Terrain plays an important role for cherry picker machine safety. If the terrain is choppy, uneven, or slippery, operators should find another area to work. It's important to choose terrain that is level and free of slip hazards such as ice, oil, or other liquids. If an operator must position their cherry picker on an incline, always set the brakes and use wheel chocks. The safe use of cherry pickers starts from the ground up.
4.Watch for overhead hazards
Power lines, buildings, trees, bridges, and other overhead hazards can prevent the safe use of cherry pickers. Not only can these objects damage your cherry picker machine, they can also pose serious risks to operators in the bucket. Raising your cherry picker into airspace free of obstructions will help keep you and your equipment safe. Our cherry picker training provides more information on how to deal with overhead hazards.
5.Ensure proper use of safety harnesses
Cherry picker equipment requires common sense fall protection practices. Aside from other safety tips (ground crew communication, overhead hazard assessment, etc.) ensure your operators have a fall prevention system in working condition. A full-body harness with sturdy lanyards and cords is recommended. A solid anchor point within the cherry picker basket is also required. Fall protection requirements can vary according to your location and the type of cherry picker machine – always ensure to do a thorough fall protection assessment before every job!
6.Do not exceed the load limits of your cherry picker
The machine in use has clearly posted load limits. To prevent malfunction and worker injury, do not exceed these limits. Always require workers to account for the combined weight of the operator, their tools, and additional materials when loading a cherry picker.
7.Communicate with the ground crew
If an operator needs to move their cherry picker or requires any assistance, always stay in touch with the ground crew. A cherry picker operator in the bucket can't do the job alone; to ensure the safe use of cherry pickers, keep those lines of communication open!
8.Report any hazards to your supervisor
Reporting any hazards is important for the safe use of cherry picker machines. If an operator encounters any dangerous conditions, ensure their boss or coworkers are aware. Likewise, ensure a supervisor is aware of any cherry picker problems to prevent accidents for a work crew or other crews at your jobsite. This is helpful for cherry picker operators who are on the same jobsite multiple times.
Frequently Asked Questions About Cherry Pickers 
Still have questions about cherry picker machines? Our FAQ section may have what you're searching for:
Can anyone use a cherry picker?
Many industrial workers would like to operate a cherry picker. But without the proper training credentials, it's illegal to do so.  OSHA requires all cherry picker operators in the United States to have aerial lift certification since a cherry picker is a type of aerial lift. ALC offers a trio of training packages designed to help anyone become the safest, most efficient aerial lift, scissor lift, or AWP worker.
How high can a cherry picker reach?
Some cherry pickers extend as high as 200 ft. 
What factors should be considered before getting a cherry picker for my business?
Consider the business application and the height and reach required for a cherry picker. Also, verify that anyone who will be using the machine has OSHA-approved certification.

Get Cherry Picker Training Today
Having a cherry picker operator on staff can be a huge boon to productivity and workplace safety. If you're hoping to train your workers to use a cherry picker, you'll want to take advantage of our OSHA-compliant certification training. It's never been easier, more convenient, or more affordable to get compliant. Workers can complete training in a single afternoon from anywhere they have an internet connection. Sign your workers up today for our budget-friendly course! And for any questions about the safe use of cherry picker machines, or if you're interested in helping your workers become OSHA-compliant cherry picker operators, contact ALC online or call us today at (888) 278-8896.