Tips for Using Scissor Lift and Boom Lift on a Slope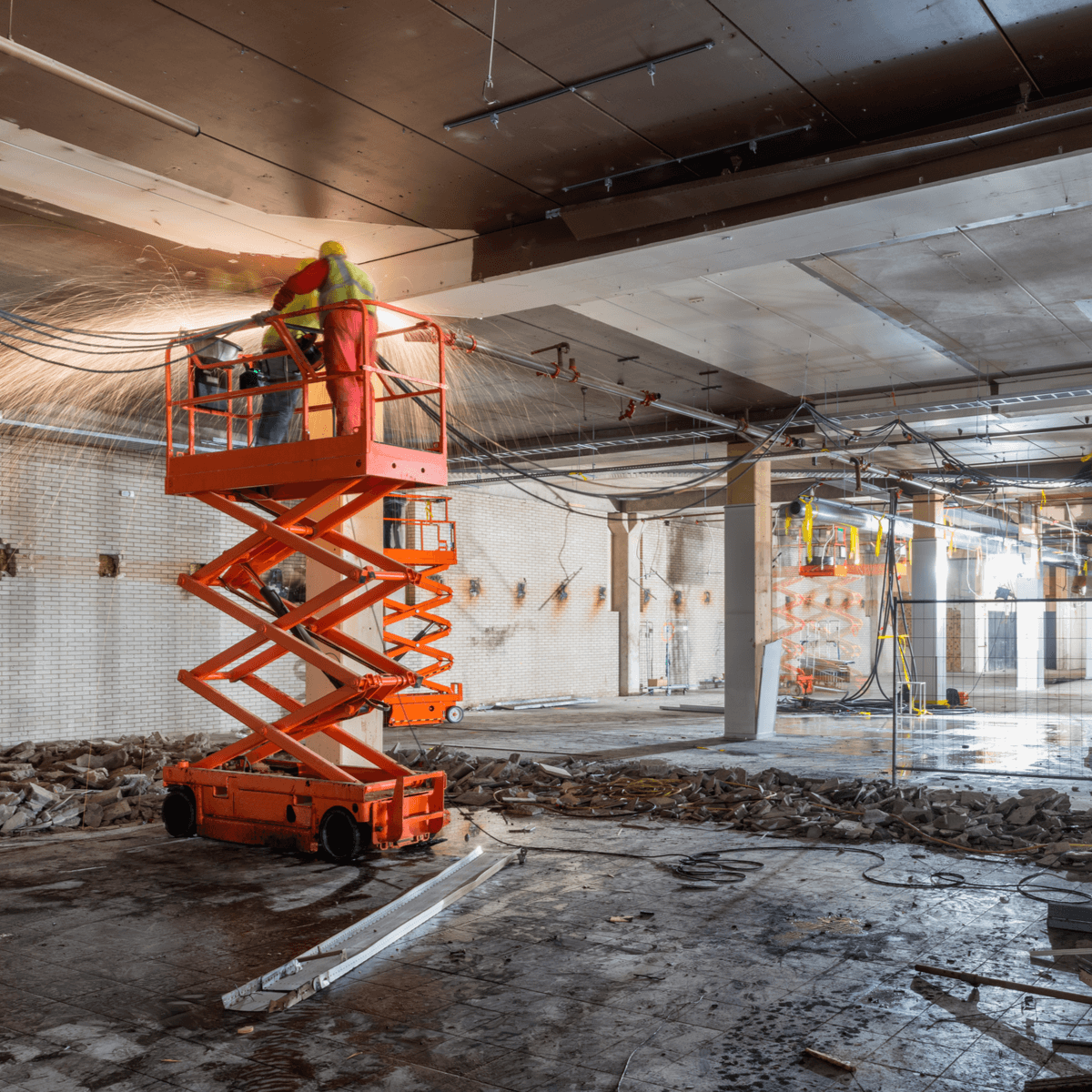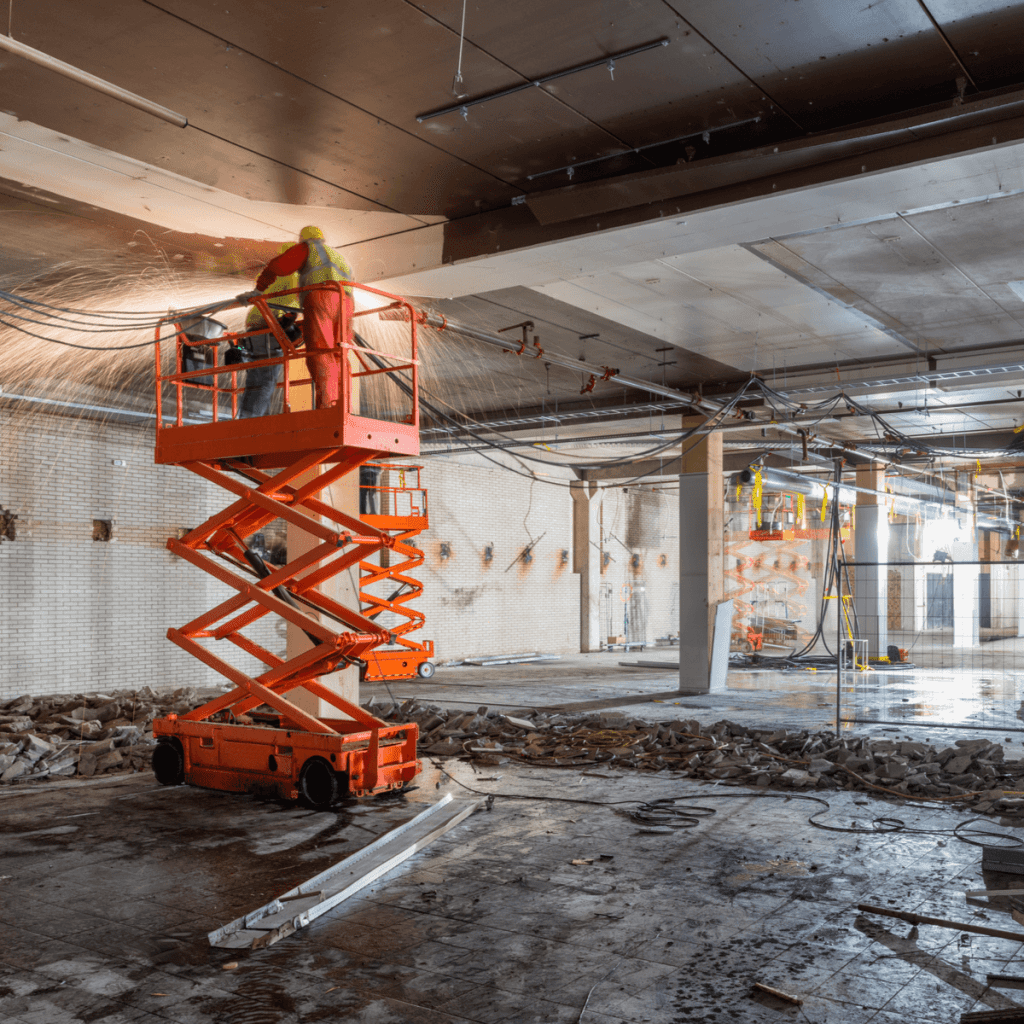 Aerial work platforms (AWPs) like boom and scissor lifts play a vital role on job sites of all varieties. These pieces of machinery are essential to a wide range of industries. While undeniably useful, they also present unique challenges. Without proper training, operators may find themselves involved in a boom or scissor lift accident. That's especially true when using a boom lift on a slope. Tip-overs are one of the biggest concerns for operators of lifts, which become an even bigger issue when the lift is tilted at an angle.
What is a Slope in Scissor Lifting?
When you hear the word slope, your mind might jump to ski resorts or math class. The reality is that a slope is any surface with an incline. Any time an aerial lift is not on perfectly level ground, operators must contend with the slope. Ramps, hills, raised sidewalks, and uneven gravel can all present challenges for aerial lift operators. Careful calculations must be taken to ensure safety while using a boom lift on a slope. The same goes for scissor lifts, too.
A digital inclinometer can be used to measure the exact degree of a slope. If you don't have one, place a board at least 3 feet long on a slope. Then, place a carpenter's level on the board and raise the lower end of the board level until it is horizontal. Once you do that, complete these steps:
1. Measure the distance to the ground.
2. Divide the distance by the length of the board.
3. Multiply the result by 100.
This simple formula provides the percent of the slant. If the number exceeds the max slope rating, do not drive the lift on the slope. Instead, winch or hoist the lift across the sloped area.
Keep in mind that max slope ratings can change due to ground conditions and weather. For example, mud or loose gravel can reduce traction and extend stopping distances.
Driving speeds need to be reduced when crossing sloped or rough terrain as well. Proceed with caution why you drive a boom lift on a slope near drop-offs or cliffs.

Where Can You Use a Scissor Lift?
Scissor lifts come with large platforms that can hold multiple people and pieces of equipment at the same time. This makes them ideal for manufacturing and industrial worksites.
Also, it is important to note that most scissor lifts can only move straight up and down, which makes it hard to move them around obstacles. They can lift workers to heights between 20 to 50 feet as well.
Generally speaking, using a scissor lift on a slope is not a good idea. That's because they're inclined to tip over when used on a sloped surface. Workers may fall from the platform and injure themselves. However, it can be done when managed properly and by not exceeding the maximum angle for the lift.
Where Can You Use a Boom Lift?

Boom lifts can go much higher than scissor lifts — up to 130 feet or more. They offer greater flexibility than scissor lifts, since the bucket rests on a hydraulic arm and can move in all directions.
Meanwhile, boom lifts have smaller platforms than scissor lifts. They are also ideal for jobs where the worksite is small or hard to access. Like scissor lifts, using boom lifts on a slope is not recommended. The center of gravity is higher with this machine than with many others, which increases the risk for a tip over. However, it is possible to work on an incline as long as you don't exceed the maximum slope for the boom lift.
What Do Boom and Scissor Lifts Have in Common?
Boom and scissor lifts share two things in common relative to worker safety:
1. Both can be dangerous in the hands of untrained operators.
2. Operating a boom lift on a slope or scissor lift on a slope can be risky.
Boom and scissor lift operators require safety training. That way, they can learn about boom and scissor lift slope hazards and how to avoid them. The Occupational Health and Safety Administration actually requires all boom and scissor lift operators to be trained and certified before they begin using such equipment. That's because this machinery is inherently dangerous to those uneducated about the risks. Without the proper training, workers may easily find themselves in over their heads and involved in a workplace accident. Even if they manage to avoid injury, untrained workers are often inefficient at their daily tasks. With the right training, your company can avoid accidents and injuries while improving your rate of productivity.
Using a Boom Lift on an Incline: What You Need to Know
While using a boom lift on a slope isn't recommended, sometimes job sites feature slight inclines that are truly unavoidable. A boom lift should never be used in winds that exceed 28 mph. When in doubt about whether to operate a boom lift in high wind conditions, use your best judgment, and always err on the side of caution.
Furthermore, you should always check a worksite for overhead hazards, such as overhangs or high-voltage power lines. As a general rule of thumb, stay at least 50 feet away from electrical wires on steel towers and 30 feet away from wires on wooden or concrete poles.
Using a Scissor Lift on a Slope: What You Need to Know
Most people in the AWP industry strongly advise against using a scissor lift on a slope. But, some scissor lifts can be used on an incline. In this case, it may be safe to use them on a slope — as long as you don't exceed the scissor lift's maximum working angle.
The max working angle may be listed on a scissor lift's ID plate. Or, it may be marked by a decal on the platform. You can always find it in the operator's manual, too. And if your scissor lift is not rated for an angle, it should only be used on firm, level ground.
What is the Maximum Working Angle?

Understanding one's maximum working angle is an incredibly important scissor lift safety tip. If your boom or scissor lift is rated to work on an incline, the maximum working angle represents how much your lift can be moved in a particular way. The safe working angle is outlined on the manufacturer's identification plate fitted on the lift. It may also be marked by a decal on the platform. You'll also find the maximum working angle in your operator's manual. The specific angle must never be exceeded, otherwise you risk tipping over. This is one of the most important steps for using a scissor lift on a slope, so be sure not to skip it.
Tips for Safely Using a Scissor Lift on a Slope
Using a scissor lift on a slope can be incredibly dangerous, especially for inexperienced lift operators. Always be sure to thoroughly train employees before they attempt using a boom lift on a slope. It's also necessary to read the operator's manual to understand the maximum working angle of a given lift. Then determine the slope grade using the formula above. If the slope exceeds maximum slope ratings, then the lift must be winched or transported up or down the slope. Proper stabilization techniques can help prevent tip overs. 
Other tips for safely using a scissor lift on a slope include:
Limit the speed according to the surface traction of the slope.

Never exceed the maximum slope rating for the lift.

Plan for extra braking distance on slick or unstable surfaces.

Never use a driver who has not been trained on how to use a scissor lift on a slope.
Learning how to use a scissor lift on a slope often boils down to knowing your limits. If you avoid raising, extending, or operating the machine on an incline, you can mitigate much of the risk involved. As you drive onto the slope, limit your speed and adjust for the terrain as needed. Braking in such settings can be a challenge, so you'll want to keep speeds low.
Using Outriggers with a Scissor Lift
Outriggers can improve safety with a scissor lift, especially on inclines. The outriggers provide a wider base, allowing it to stand on the feet of the outrigger along with its own wheels. The result is increased stability and a reduced risk for a tip-over. You can even add outrigger boards under the outrigger to increase stability further. Another purpose of the outriggers is to allow the scissor lift to carry a heavier load. Before you use a scissor lift on a slope, be sure to explore your options with outriggers. Scissor lift safety tips like this one can seriously save lives!
Many people don't realize that you can use outriggers on both scissor lifts and boom lifts.  They're frequently used to stabilize cherry pickers, cranes, and other AWPs, too. No matter the task at hand, if you're hoping to avoid a tip-over, outriggers are an excellent option.

Get Fast, Affordable Boom Lift Training With ALC!
AerialLiftCertification.com is the #1 source for convenient, affordable, and OSHA-compliant safety training. We offer training packages for boom life, scissor lift, and other AWP workers, and our training and certification program is fast and easy to complete. Along with our Operator Training Kit, we also provide the Train a Trainer course to allow your company to oversee training of all workers. Purchase our Bundle package with both courses to save money. 
OSHA has strict requirements in place for boom and scissor lift operators. If your business employs unlicensed or untrained AWP operators, you could be in for expensive fines and penalties. Thankfully, it's never been easier to get employees up to speed. By signing them up for training with ALC, you'll ensure that you're in compliance with OSHA regulations while fostering a safer work environment for the entire team. Knowing how to use a boom lift properly can make all the difference. Count on AerialLiftCertification.com as your scissor and boom lift certification provider. To learn more about our safety training courses or to sign up for our classes, please contact us online or call us today at (888) 278-8896.