Aerial and Scissor Lift Outriggers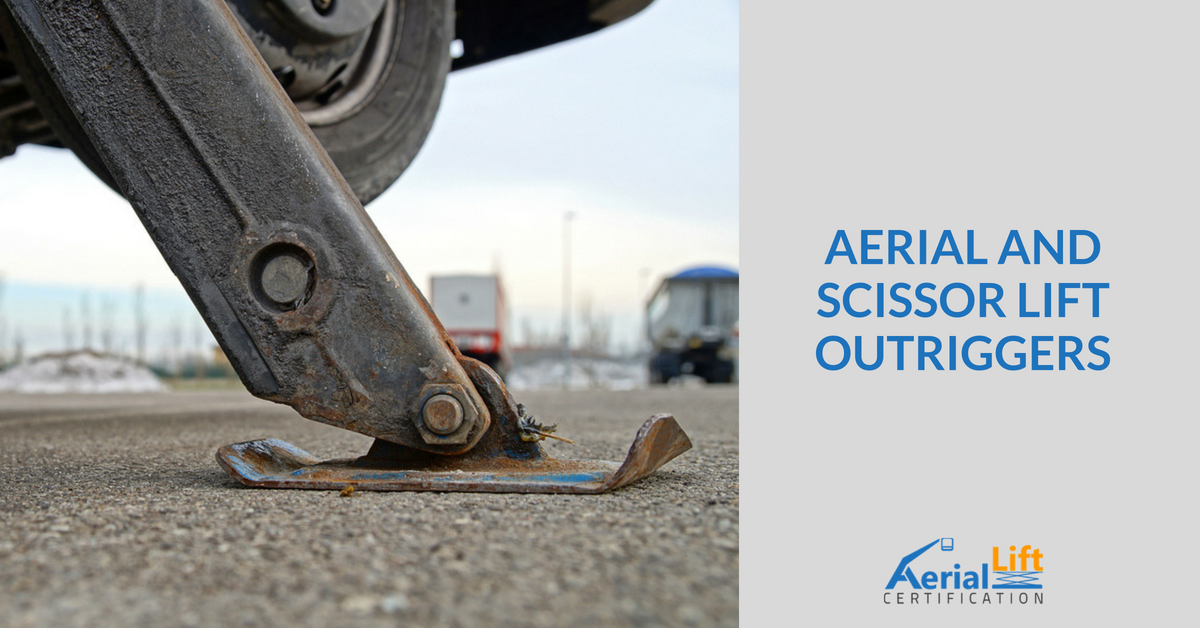 Tipping over is the main cause of injuries and deaths associated with aerial lifts. To reduce the risk of tilting, short metal legs called outriggers are attached to aerial work platforms (AWPs). The purpose of outriggers on scissor lifts and other AWPs is to help keep them stable. Aerial lift tip-overs and scissor lift tip-overs can result from either failing to use or incorrectly using outriggers.
AerialLiftCertification.com offers complete AWP training for all types of aerial lifts, scissor lifts, and more. Our OSHA-compliant training includes information on:
Safe scissor lift and aerial lift operations
How to avoid scissor lift tip-overs and stabilize AWPs
Working with scissor lift outriggers and boom lift outriggers
Fall protection
And much more
Some lifts come with outriggers already attached. Others are added later as accessories. AWP outriggers come in various designs. Some fold out from the lift's sides. Others are fastened directly to the machine's framework. Outriggers on some older lifts may need to be lowered by hand to place them firmly on the ground or slab. Newer lifts usually have motors or hydraulic systems that lower and seat the outriggers. Top of the line machines have self-leveling outriggers that automatically lower and adjust each leg for maximum stability and support. For added safety, many aerial lifts have interlock devices that keep the boom locked in the stowed position until the outriggers are deployed.

Scissor Lift with Outriggers
If the work platform is low and the scissor lift is on solid ground or a concrete slab, you might not need to use the outriggers. If a fully extended scissor lift is on soft ground or exposed to high winds, it's a good idea to stabilize the lift by using its outriggers. When the outriggers are down, the scissor lift is supported by both its wheels and the outrigger's four legs. The weight of the lift is also spread evenly across a wider area, which makes it more stable. Scissor lifts can carry more weight than most other types of lifts, which make outriggers an important safety feature. A large, rough terrain scissor lift with outriggers used in heavy construction can carry loads of more than 50,000 lbs. of workers, tools, and materials.
Scissor lift outriggers are useful for avoiding tip overs. One of the most common AWP accidents is a scissor lift tip over, but proper outrigger deployment provides a stable, sure-footed base for workers.
If you're not sure about the proper methods for setting up scissor lift outriggers, ask your safety supervisor – it's always better to be safe than sorry!
Examples of Scissor Lifts with Outriggers
Popular scissor lifts with outriggers include:
Genie GS-3268RT
Genie GS-3369RT
Genie GS-3384RT
Skyjack SJ 6832RT
Skyjack SJ 6832RTE
The aforementioned scissor lifts have a platform capacity of 1,000 lbs. or greater and a platform height of 32′ or 33′. In addition, the platform of each of these lifts can extend up to 60″.
What Are Scissor Lift Outrigger Pads, and Are They Necessary?
Scissor lift outrigger pads simultaneously provide support and limit the risk of pavement damage. The pads can be placed under the outriggers and easily stowed away when they are not in use.
Outrigger pads increase stability, and they can reduce the risk that a scissor lift will tip over if it is used on rough terrain or uneven ground. Without outrigger pads, an outrigger can apply an extreme amount of pressure on the ground beneath a scissor lift. When this happens, the ground could shift or collapse, resulting in a scissor lift accident or injury.
Can You Rent Outriggers for a Scissor Lift?
You can generally rent a scissor lift with outriggers. But, if you own a scissor lift or plan to purchase one, outriggers are usually available for purchase only.
Boom Lift Outriggers
Outriggers aren't used just on scissor lifts. They're also used to steady vehicle-mounted boom lifts, cherry pickers, cranes and other AWPs. Boom lift outriggers are a popular method for stabilizing equipment for all kinds of job environments, including construction sites, maintenance facilities, and much more. Outriggers are especially helpful when using lifts on job sites with rough, uneven terrain.
Outriggers are easy to raise and lower. Some lifts have self-leveling outriggers that adjust each leg for maximum support and stability. An example is the Genie® GS™-3232 scissor lift, which automatically levels the lift on slopes of up to five degrees. Sometimes outrigger boards are placed under the outrigger legs. These help to spread the weight over a wider area. They're also used when the lift is on soft ground to make sure the outrigger's legs don't sink in and cause it to tilt. It's a good idea to use outrigger boards on indoor jobs where the legs might leave marks or scratch expensive flooring.
Examples of Boom Lifts with Outriggers
Some boom lifts are sold with outriggers, and these include:
JLG X600AJ
JLG T350
BIL-JAX XLB 4319
If you are considering a boom lift with outriggers, you should check out these lifts. In doing so, you can identify a boom lift that will remain stable as you perform tasks at high elevations.
Outriggers and Worker Safety
It's the employer's responsibility to provide their employees with a safe place to work. Part of workplace safety involves proper training. Lift operators need to be trained to control the lifts and operate accessories such as outriggers. Here are a few tips on how to use AWP outriggers:
If possible, use an outrigger padunderneath each float or foot. Many organizations have adopted this practice and have successfully eliminated the guesswork for operators in the field.
Always be sure to set the brakes when using outriggers
As an added safety measure, place wheel chocks under the vehicle's tires
Before moving the lift, see that the booms are cradled and the outriggers are properly stowed
Never use aerial lifts on slopes that exceed the manufacturer's slope rating, even if outriggers are available
Be sure the operator is trained and certified to properly set up and level outriggers
Always check for loose soil and other subsurface hazards before deploying outriggers

Get Training for Scissor Lift Outriggers and More
OSHA requires employers to keep workplaces free from hazards that could cause serious injuries, including scissor lift tip overs. Failure to do so can result in hefty fines, prison time or both. Worse yet, the lack of adequate training could result in a serious injury or the death of an employee.
Don't let a subpar safety program put your workers in jeopardy. For assistance and expert instruction on scissor lift outriggers, fall protection, AWP setup, boom lift outriggers and more, sign up with AerialLiftCertificadtion.com today – we'll get your entire workforce compliant and trained right in no time!
It's the employer's responsibility to make sure that anyone operating an aerial lift has been properly trained, evaluated and certified. The easiest, fastest and most affordable way to train aerial lift operators is through AerialLiftCertification.com's online Aerial Lift Operator Training program.
OSHA requires the employer to keep certificates on file for each operator to show proof of training. As soon as the employee finishes the training, you can print their certificate and a temporary card for the operator's wallet. A permanent card for the operator will be mailed to the business within seven to ten days. It's that easy with AerialLiftCertification.com!
Thousands have already used AerialLiftCertification.com's programs for operator training and certification. Contact us today to get started on our Online Operator Training and Certification Program. We'll help your company avoid scissor lift tip overs and other accidents, and also explain outrigger techniques. You'll rest easier tonight knowing you're on the way to 100% compliance with OSHA's aerial lift operator training and safety requirements!