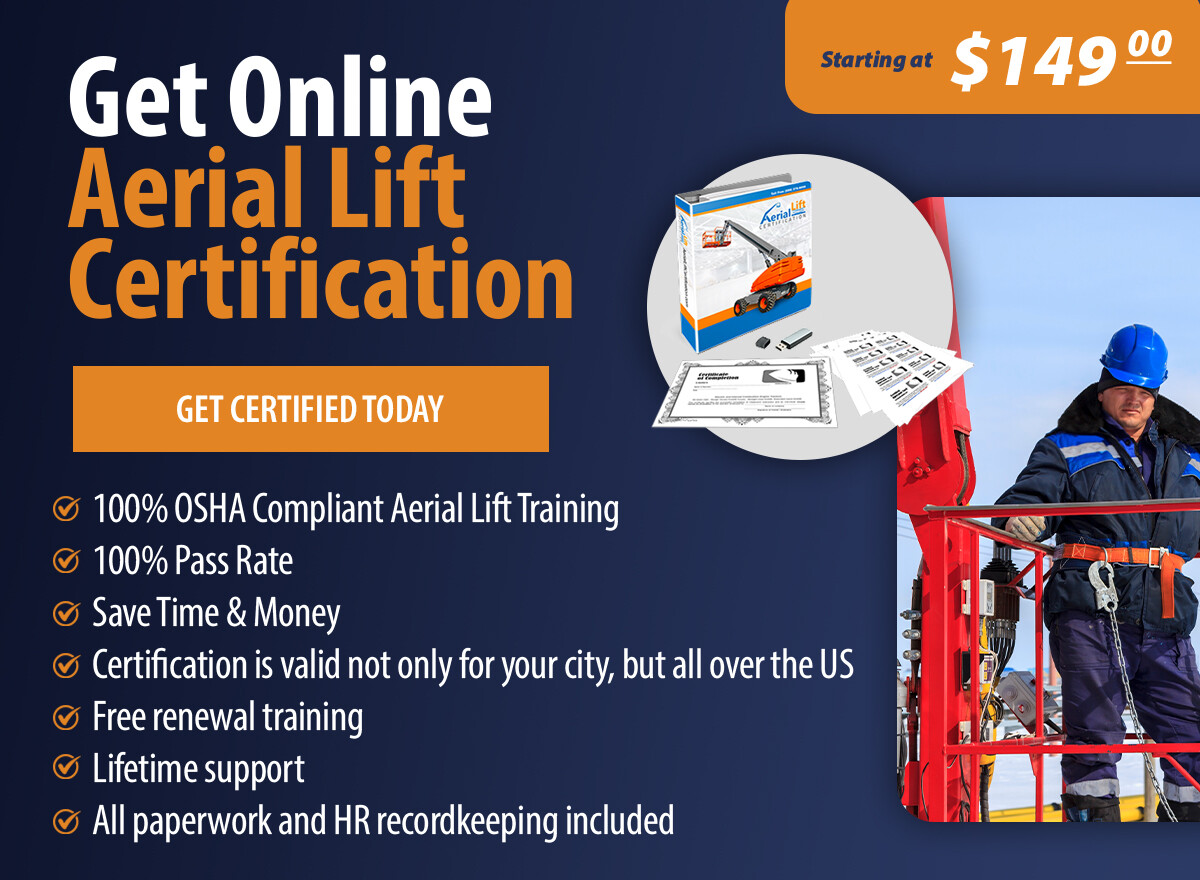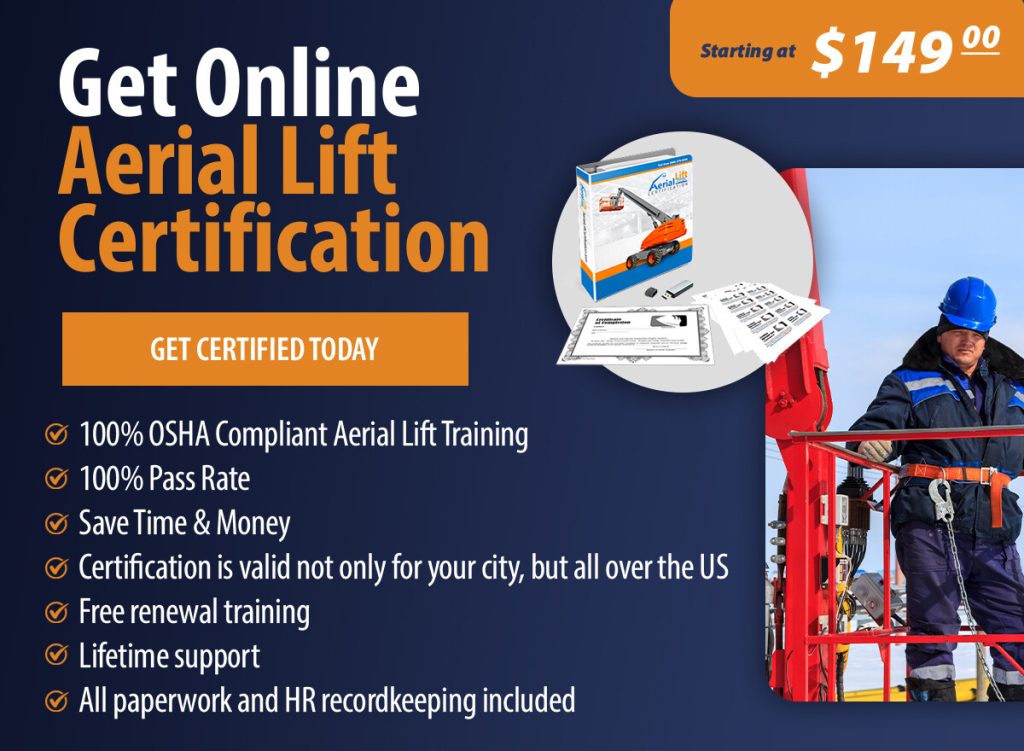 Getting your employees trained and certified can be a tough task. Who can keep up with all the OSHA regulations these days? How do you handle new operators and experienced drivers? Suppose your Ontario company needs certification for aerial work platforms (AWPs), cherry pickers, scissor lifts, mobile elevating work platforms (MEWPs), and more. In that case, the solution is here: AerialLiftCertification.com.
We help companies just like yours get OSHA certification affordably – and fast! Students can often complete their aerial lift certification in Ontario in about an hour. And you'll love our prices, too!
ALC offers three courses designed to make your company 100% compliant. Need an on-site training coordinator? Try our Train the Trainer program, a great option for Ontario aerial lift certification online, at just $149. Get all your employees trained with the Training Kit for only $299. If you'd like both courses at a discounted rate, the Bundle Package is only $399! There's simply no better value for Ontario aerial lift certification.
Register your company today and make sure you're covered in case of an OSHA audit or inspection.
How to Get Aerial Lift Certified in Ontario
ALC is perfect for anyone that wants to know how to get aerial lift certified in Ontario. Follow these steps, and you're on your way:
Register online: Get your company and employees registered.
Select your Ontario aerial lift certification courses: The ALC course selection page explains all our courses in detail.
Do the online instruction: We ship convenient flash drives, which your employees can use anytime they're free. They contain helpfulOSHA safety standards, how to avoid accidents, and more.
Quizzes & tests: These help your employees retain the knowledge they need for the crucial next step in Ontario aerial lift certification.
On-site skills test: From telehandlers to typical AWPs, it's time to see if your employees can safely operate your equipment. Your staff can coordinate the process with our Train the Trainer program.
Print OSHA-approved credentials: These are critical to show OSHA proof of training if you have an audit.
We give you all the tools and resources to get aerial lift certification in Ontario. Sign up today and make your workplace safer ASAP!

Advantages of Our Aerial Lift Certification in Ontario
Once you're registered with ALC, you'll enjoy these benefits and more:
60-minute aerial lift certification. While many students complete their training in about an hour, some may take longer – but that's OK!
Affordable prices: Ontario aerial lift certification should be within anyone's budget. With ALC, it is!
Responsive customer support. Getting and staying certified requires full support. We're here to answer questions and make sure you're compliant.
Flexible scheduling. We don't set the schedule for your aerial lift certification in Ontario – you do. Get certified on YOUR schedule.

Ontario Aerial Lift Certification FAQs
Here are some common questions about Ontario aerial lift certification:
Can OSHA fines get expensive?
Yes – but with ALC, you can avoid some of the most severe fines, some of which cancost up to $100,000 and more.
Are aerial lift inspections important for safety?
Safety is all about teamwork. ALC highly recommends a regular maintenance schedule to keep your lifts running smoothly. And we'll help you establish workable aerial lift inspections to make sure your equipment is safe to operate.
Besides certification, what else does my ALC purchase offer?
We'll get you compliant with our Ontario aerial lift certification. But we'll also give you great customer support, courses that update as OSHA regulations change, aerial lift safety checklists, and much more.
Don't take chances with compliance. Get your aerial lift certification in Ontario now and register today with ALC. Thanks for considering us as your preferred aerial lift training partner.

Fast, Easy & Affordable Ontario Aerial Lift Operator Certification
Aerial Lift Certification offers streamlined, easy to access aerial lift certification training for any Ontario job applicant. Besides our superior safety training, ALC offers easy renewals as well. Plus, when you sign up for Ontario aerial lift certification with us, we'll help with any questions or issues you may experience. To find out how AerialLiftCertification.com can enhance your company's safety, call us at (888) 278-8896. You can also get started online by choosing one of our packages, which are Training kit, bundle package, or train the trainer.
Thanks for considering AerialLiftCertification.com for your Ontario aerial lift certification needs!