How to Properly Cone Off Your Work Area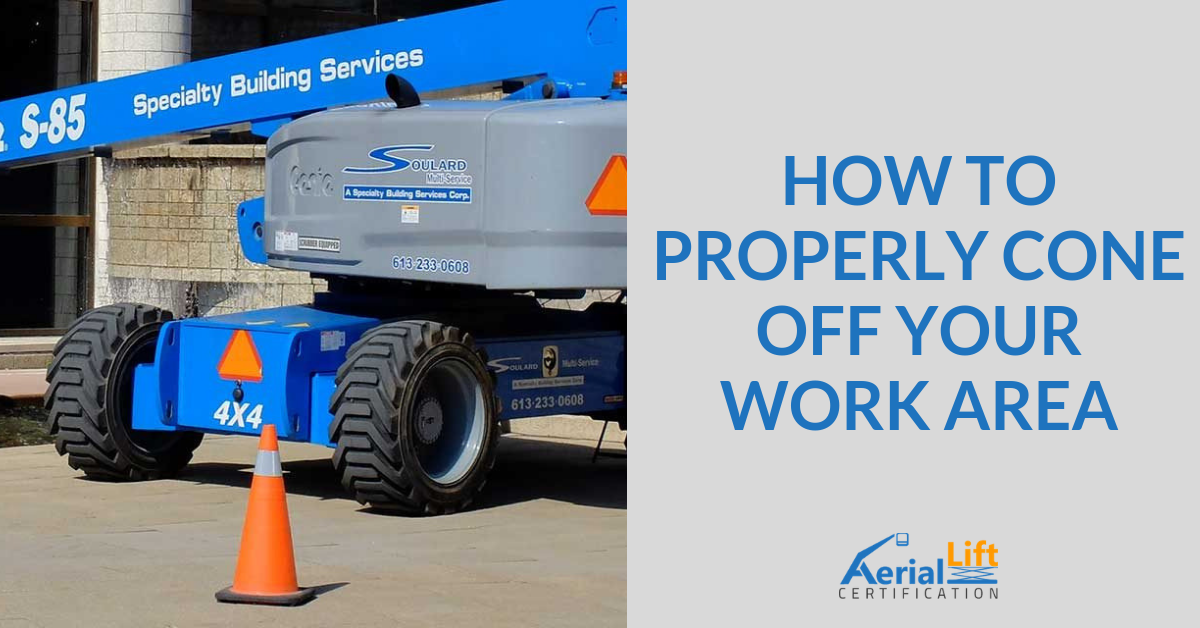 Work zone and aerial work platform (AWP) traffic control is an important part of safety on the job. Each year, more than 40,000 people are injured in work zones. Every eight hours, there's a work zone fatality. Knowing how to create a safe work zone helps prevent accidents and injuries, including fatal ones.
Setting up an OSHA-compliant safety zone includes using warnings, signs, visual signals, and coned off areas. All are needed to enhance safety. This blog will discuss the use of traffic cones to help with work zone and AWP traffic safety.
OSHA Traffic Control Guidelines
When it comes to AWP traffic control, OSHA has clear guidelines:
AWP driver and worker safety should always be the top priority.
Cones and other traffic control tools should be set up to keep driving conditions close to normal.
Motorists should be led through a traffic control zone in a clear and positive manner.
The work zone should have signs and instructions to keep workers and road users safe.
Managers should also conduct day and nighttime checks of the traffic control zone. This is done for two reasons. One is to make sure the traffic zone remains correctly marked. The other is to maintain AWP traffic control safety at all times.

AWP Traffic Safety Cone Tips and Recommendations
Anyone working in a coned off area needs to be trained in the tasks they perform. This is especially true with large equipment operators. Mistakes due to lack of training can put workers and road users at risk of injury or death.
There are many factors to consider in regards to the use of work zone cones, such as:
1. Area-Wide Protection
OSHA traffic control guidelines have two main goals. The first is to create a safety zone that protects workers. The other is to allow for the safe flow of traffic away from and around the work area. This requires dividing the work area into different zones. Each one has a different purpose.
2. Advance warning zone.
This is the part of the road or highway where drivers first become aware of the upcoming work zone. On busy city streets, the advance warning area should run four to eight times the speed limit. On uncrowded rural streets, the length range is eight to twelve times the speed limit. In either case, the idea is to let drivers know they will soon come upon a work area.
3. Transition zone.
The transition zone is the first section where drivers have to take a different path due to the work area ahead. This is done by using cones to create a temporary barrier. On roads with more than one lane going in the same direction, the cones are used to create a merging taper. This gradually forces drivers to move into the lane that remains open. It also causes them to reduce speed in order to merge safely.
4. Activity zone.
This is where the work takes place, which can be on the road or to the side of the road. It involves the work zone, the traffic area, and the buffer space. In most cases, cones are used to direct vehicles away from workers and machines. Many work zones will also have a flagman to slow down or stop drivers. They can be at one or both ends. Their purpose is to protect both workers and drivers and to assist with the flow of traffic.
5. Termination zone.
This starts at the point where cars are safely past the activity zone. At this point, drivers are directed back to the normal driving path. This can be done with cones, flagmen, or both. The zone usually has an "End Road Work" sign to let drivers know they are past the work area.
A Closer Look at Work Zone Cones and Traffic Cone Placement
Work zone cones offer easy, effective solutions to designate specific areas for the use of aerial lifts and other heavy-duty equipment. They may be utilized on highways, at construction sites, and across other work environments.
Traffic cone placement is a key consideration relative to the use of work zone cones. Ultimately, workers must be able to see work zone cones to ensure they know exactly where to use various machines and complete myriad tasks. Yet, if cones are not placed in the proper locations, workers may be unclear about the size of a work zone. Perhaps even worse, workers may unknowingly start to complete tasks outside, which could put themselves, their coworkers, and bystanders at risk.

Following OSHA guidelines is paramount, particularly when it comes to work zones cones and traffic cone placement. Additionally, your business can offer training to teach workers about these topics, along with the proper positioning of cone tapers.
How to Position Cone Tapers
Tapers are the sections of the AWP traffic safety zone in which cars are not supposed to pass through. In most cases, this is a coned off area. The tapers need to be long enough to give workers a safe space in which to work. To decide the length of the taper, measure the width (W) of the offset in feet. Then note the posted speed limit (S).
On streets where the speed limit is 40 mph or less, the taper length should be Wx2 divided by 60. On streets with a 45 mph or higher speed limit, the correct taper length is W x S.
Other taper lengths include:
-Merging taper (before the transition zone)
A merging taper is used when a lane is closed on a multi-lane road for a transition area. It requires the longest distance because drivers need to be alerted to the upcoming move into one lane of traffic. At a minimum, a merging taper measures at least the length of the taper in feet.
-Shifting taper (requires a sideways shift)
A shifting taper is used with lateral shifts that do not involve merging. With a shifting taper, it should measure at least half the taper length in feet.
-Shoulder taper (the shoulder is included in the activity zone on a high-speed road)
A shoulder taper may be necessary when a shoulder of a high-speed road must be temporarily closed off. This type of taper should measure at least one-third of the taper length in feet.
-One-lane, two-way traffic (before the activity area)
One-lane and two-lane tapers are used before an activity area that occurs on a two-way road. In these instances, the taper measurement should fall between 50 ft. and 100 ft..
-Downstream taper
A downstream taper alerts drivers to the fact that their regular traffic lane is open again. The length of a downstream taper should range from 50 ft. to 100 ft.
Cone tapers must be strategically measured and used appropriately. With the proper use of cone tapers, your workers can limit the risk of cars entering work zones, which can otherwise put your employees and motorists in danger.
OSHA Traffic Control Guidelines
According to OSHA, "Control of all road users through a temporary traffic control (TTC) zone shall be an essential part of highway construction, utility work, maintenance operations, and the management of traffic incidents." When OSHA traffic control measures are taken, all workers and road users are safer.
The basics of an OSHA traffic control zone are:
The goal is to safely route road users through such zones using roadway geometrics, roadside features, and TTC devices.
A TTC plan is needed to ensure all safety measures are put in place and all responsible parties are held accountable.
All pedestrians should be guided in a clear and positive manner while approaching and navigating the traffic control area.
Traffic control tools, such as cones, should be inspected daily and maintained as needed.
All workers involved with the work project and traffic control zone must be trained to do their jobs correctly and ensure everyone's safety.
OSHA traffic control guidelines are in place for a reason: to protect workers and bystanders against accidents, injuries, and fatalities. Thus, your workers must learn these guidelines and follow them any time they need to establish a TTC zone.

Training for AWP Traffic Safety
Aerial lift training and certification is one of the best ways to reduce accidents on AWP work sites. It also helps protect non-workers and drivers on the road. When workers know how to avoid AWP hazards, it makes everyone safer.
When you need fast, affordable aerial lift training, turn to AerialLiftCertification.com. Our aerial lift safety training program is accessible anytime, anywhere, and from any device. All you need is an Internet connection. The training is OSHA traffic control-compliant, and it only takes about an hour to complete.
For more information about our aerial lift safety training program, please contact us online or call us today at (888) 278-8896.