Your Guide to Rough Terrain Scissor Lifts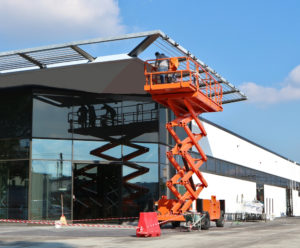 Scissor lifts are among the most popular kinds of aerial work platforms. Rough terrain scissor lifts are especially appealing for outdoor construction and maintenance projects. With AerialLiftCertification.com, you can get your employees certified to operate these machines in under an hour. Keep reading to discover more about rough terrain scissor lifts and the value they add to construction projects.
What is a Rough Terrain Scissor Lift?
Construction sites can be unpredictable – especially if you're working outdoors. Flat, even ground can be hard to come by, presenting unique challenges for workers. Also known as off road scissor lifts, rough terrain scissor lifts are the solution to many such challenges. These machines work on sloped ground to provide stable platforms for workers. They provide excellent traction, speed, and gradability, all of which are essential for safe construction projects. 
There are an array of different types of rough terrain scissor lifts available for different kinds of jobs. Rough terrain scissor lifts with outriggers, for instance, are especially useful in avoiding tip-overs, one of the most common types of workplace accidents. Outrigger deployment offers a stable, safe base for workers. No matter the terrain, there's a scissor lift right for the job. 
How to Drive a Rough Terrain Scissor Lift
To operate a rough terrain scissor lift, enter the platform using three points of contact for safety. Switch the machine into neutral and grab the joystick forward and backward to direct the lift up or down. To steer, use the switch on the joystick to move left or right. Always be sure to strap into a safety harness before moving the lift. 
In order to truly understand how to drive a rough terrain scissor lift, though, you'll want to undergo thorough training. Make no mistake: these machines are as useful as they are potentially hazardous, especially for those with little or no experience. Fail to receive the necessary training and safety certifications and you risk injuring yourself, your colleagues, or being fined by OSHA.
Rough Terrain Scissor Lift Operator Certification Needs
If you or someone you work with plans to operate a small rough terrain scissor lift, you'll want to get certified first. OSHA requires this by law. Thankfully, getting certified is easier than you might expect. Online certification opportunities like those offered by AerialLiftCertification.com are convenient and affordable. Complete the necessary training and get certified in under an hour, or become a certified trainer yourself and get your entire team up to speed. 
Consequences of Not Certifying Employees to Drive Rough Terrain Scissor Lifts
Fail to get employees certified to operate rough terrain scissor lifts and you could face OSHA fines totalling in the thousands. OSHA performs routine safety audits all the time, and if you or your colleagues are caught without the necessary certifications, expensive fines will be levied. Of course, failing to get properly trained can also lead to accidents, injuries, and even workplace fatalities. To protect yourself and your coworkers, get certified before operating rough terrain scissor lifts.

Do Your Employees Need Rough Terrain Scissor Lift Certification?
OSHA requires all employees who operate rough terrain scissor lifts to be fully trained and certified. Get your workers up to speed with AerialLiftCertification.com. Our comprehensive program teaches workers all they need to know to operate scissor lifts in under an hour. To learn more about our offerings, please contact us online or call us today at (888) 278-8896.