What to Know about Purchasing a Scissor Lift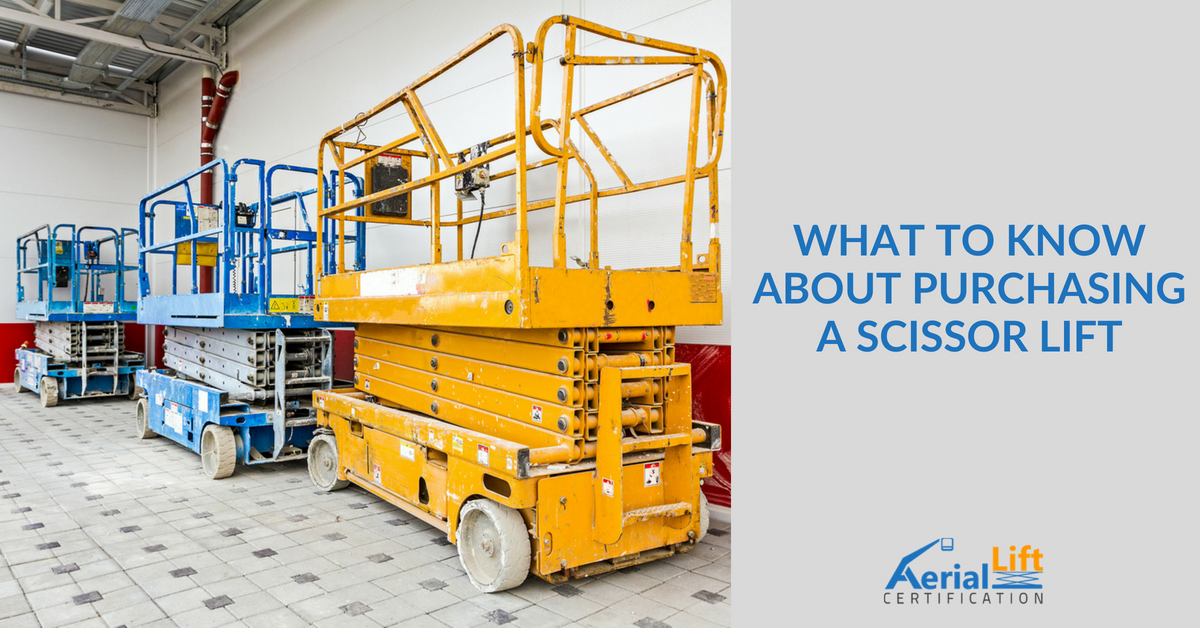 If you're in the market for a scissor lift, the purchasing process can certainly be confusing, exciting, and anxious – especially if you've never been involved with buying one before.
Most scissor lift operators aren't directly responsible for buying industrial equipment. But some companies like to get valuable input from operators.  Their assessments and recommendations are helpful for purchasing departments when deciding which scissor lift they should purchase. This input includes:
Daily operational requirements. Scissor lift operators are the best source of info on how long lifts are used each day, what type of work they're used for, and other key factors.
Work environment. Not all scissor lifts operate in the same workspace. Some are used for construction, while others are used for maintenance. Before buying a scissor lift, it's a good idea to know what type of surroundings are involved – and scissor lift operators have this knowledge!
Safety concerns. A scissor lift's safety accessories – guide rails, safety harness attachments, fall protection components, etc. – are big factors to consider before buying a lift. With input from scissor lift employees, purchasing personnel will have a better understanding of which type of lift to buy.
Safety issues are important from an equipment standpoint, but it's also critical for operators as well. ALC's aerial lift and scissor lift training courses are ideal for new hires, veteran scissor lift operators, and everyone else involved with your company's daily industrial equipment operations. Check out our courses to see how we can help your company's safety plan.
Since maintenance is such a big part of scissor lift safety – OSHA requires regular inspections to promote safe use – we thought it would be a great idea to provide some tips and recommendations for buying scissor lifts. Even though scissor lift operators probably won't make the final decision when it comes time to sign the purchasing papers (or click "Buy"), the following suggestions can be used by your company's relevant buying team to make a more informed, safety-first scissor lift purchase.
Scissor Lift Purchasing Tips
Before You Buy: Helpful Pre-Purchase Knowledge
Just like buying a car, purchasing an aerial lift requires a list of functions you're looking for, price considerations, and other important must-haves. You'd never walk into a dealership, look at the first car you see, and exclaim, "That's the one for me!"
The same thing applies to buying scissor lifts. With careful planning, solid research, and exceptional pre-purchase planning, your company has a better chance of buying a scissor lift that will be a dependable asset for years to come.
Here are some scissor lift purchase considerations:
– Mobility requirements. Make sure your scissor lift meets and exceeds your mobility standards. Some lifts are required to navigate ever-changing workspaces, while others are more or less stationary.
– Check safety accessories. Scissor lifts don't reach as high as aerial lifts, but that doesn't mean you should forget about issues like fall protection and other safety-related items. Check the manufacturer's operating manual and carefully review all the safety features – they'll probably come into play in the future!
– Measure everything. Ensure any potential scissor lift purchase has enough working space for personnel and materials. Lift requirements are also important; make sure your scissor lift provides enough vertical height to perform tasks. Have a tape measure on hand during equipment inspection to double-check clearances, widths, etc.
– Used or new? This is an important question when buying a scissor lift. Used models can help your company save money, but previous wear and tear should be taken into account. New scissor lifts don't carry any "baggage" from previous use but are much more expensive.
– Get the service history. If you're buying a used scissor lift, ask for the service history. This is helpful for maintenance personnel, and also provides a snapshot of the lift's usage. If the record includes too many red flags, or if the distributor can't provide the service history, you can probably eliminate the lift from your potential purchases.
– Ask questions. Ask the dealer or distributor anything and everything. Also, ask yourself some questions about the scissor lift. How do the brakes perform? Does the engine start fine? Are the scissor lift's fluids (oil, coolant, etc.) topped off? If not, why are they low? Does the framework have any problem spots? These and other questions will help you determine if the scissor lift is right for your company.
Another Smart Buy: Aerial Lift and Scissor Lift Training
While we're handing out purchasing recommendations, here's another one that's too good to pass up: aerial lift and scissor lift training from AerialLiftCertification.com. Our flexible, affordable, accessible training modules are the best way to become OSHA compliant. Once you have your aerial lift or scissor lift certification, you'll have a solid understanding of safety requirements, how to avoid hazards, and much more.
We have three training classes available:
Train a Trainer – interested in becoming a certified aerial lift or scissor lift safety expert? Sign up today!
Training Kit – no other online OSHA training course provides the complete knowledge quite like our Training Kit. It's ideal for everyone from recent hires to veteran scissor lift and aerial lift operators.
Bundle Package – if you can't decide between the two modules above, we have the solution: our Bundle Package includes our Train a Trainer and Training Kit courses at a special reduced rate!
Thanks for visiting and best of luck with your scissor lift purchase! If you have any questions about our OSHA aerial lift or scissor lift training programs, or if you'd like to speak directly with our certification consultants, please call us at (888) 278 – 8896.