Aerial Lift Anchor Points: 7 Questions to Consider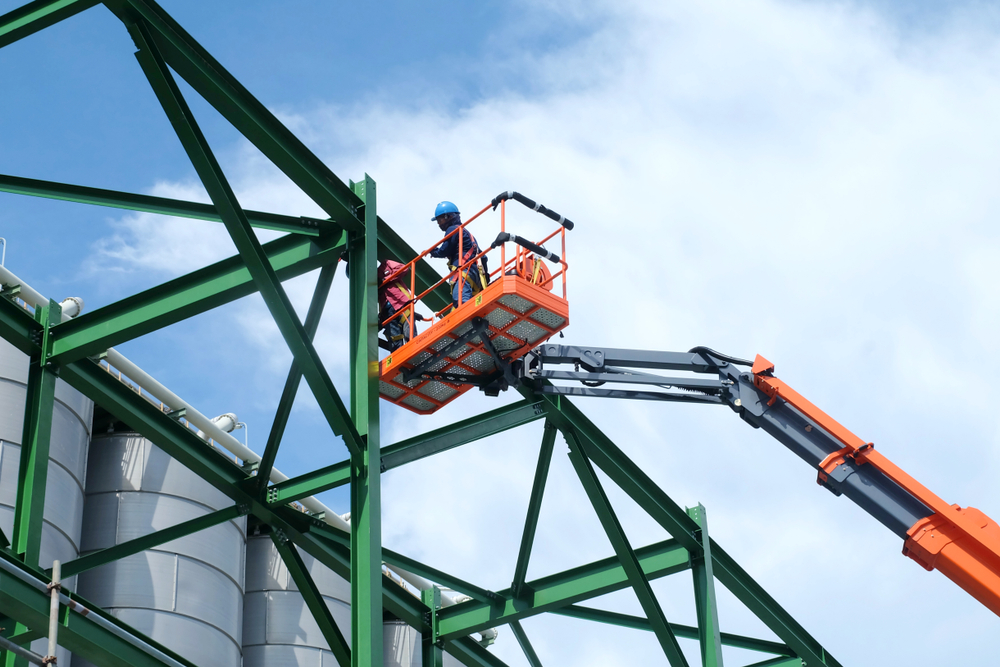 An aerial lift anchor point is an important consideration. With a secure anchor point, aerial lift operators can reduce the risk of falls that lead to accidents, injuries, and fatalities.
As your company evaluates ways to keep your aerial lift operators safe, it often helps to assess aerial lift anchor points closely. In fact, there are several aerial lift anchor point questions that your business should consider, including:
1. Why Is an Anchor Point Important?
Falls are among the biggest challenges for aerial lift operators. But, with an effective scissor lift anchor point, aerial lift operators can avoid falls.
An anchor point provides a secure point that connects an aerial lift operator to a lifeline, lanyard, or deceleration device. In doing so, an anchor point ensures a lift operator is securely connected to a machine. If the operator who uses fall protection equipment in combination with an anchor point and inadvertently falls, he or she may be able to avoid a serious accident or injury.

2. Can You Use a Boom Lift As an Anchor Point?
Certain boom lift manufacturers allow their lift to be used as a boom lift anchor point. In these instances, a boom lift manufacturer offers clear instructions on how a lift operator can leverage the lift as a fall-arrest anchor when he or she uses the platform.
Regardless of whether a boom lift is designed to let operators leverage the lift as an anchor point, the operator should never belt-off to nearby structures or poles in the platform. These structures or poles do not provide adequate anchor points; thus, if a lift operator tries to use either of them as an anchor point, he or she is susceptible to severe falls from heights.
3. Can You Use a Crane Hook As an Anchor Point?
A crane hook does not meet OSHA requirements for anchor points. Therefore, aerial lift operators should not use a crane hook as an anchor point.
4. How Much Weight Can an Anchor Point Withstand?
OSHA requires boom and scissor lift operators to use an anchor point that can withstand at least 5,000 lbs. per attached worker. An anchor's strength depends greatly on its design, condition, orientation in relation to the loading direction, and the connection to the supporting structure. The structure itself is a factor, too – understanding how it might resist imposed loading must be entered into the equation.
The load applied to an anchor also depends on the type of fall protection system being used. There are unique standards for temporary fall arrest systems versus fall restraints and permanent anchors. A thorough understanding of aerial lift anchor points is required to safely test the weight.
5. How Can I Choose the Right Aerial Lift Anchor Point?
To choose the right anchor point for an aerial lift, it often helps to understand the different types of anchor points.
Common aerial lift anchor points include:
Permanent
Often consists of galvanized or stainless steel and are permanently attached to a structure.
Horizontal Lifeline
Enables multiple workers to use a single anchor point without limiting their mobility.
Portable
Serves as a non-penetrating weighted anchor system that enables a worker to safely access a roof or other elevated structures.
Personal Fall Arrest System (PFAS)
Consists of an anchor point, along with a full-body harness and a connector. PFAS must be worn by employees any time they complete tasks at heights.
Once you know which types of anchor points are available, you can select one that falls in line with your work requirements. You should also avoid using any of the following items as anchor points:
Guardrails

Light fixtures

Railings

Electrical equipment

Ladders

Scaffolds

Vents
Also, any anchor point must meet OSHA requirements. If your workers complete aerial lift certification training, they can learn about OSHA requirements for anchor points — and more.
6. What Should be Examined When Inspecting Anchor Points?
A scissor lift fall protection anchor point must be visually inspected before it is attached to fall protection equipment. Permanent anchors can be inspected annually (or according to the manufacturer's instructions). Be sure to keep accurate records of when the inspection occurred, who performed the inspection, and any repairs made to the scissor lift anchor points. Should a fall occur, it's important to test anchors for stability and strength.
7. What are Tips to Follow When Using Anchors?
If you're feeling nervous about using aerial lift anchor points on the job, prioritize education. Thorough training can help you understand the dynamics in play and make you feel more comfortable using scissor lift tie off points. Fall protection harnesses can also bolster your confidence. They can help you avoid falling from your lift and minimize the chances of serious injuries if you do take a fall.
Perhaps the most important tip for using an aerial lift as a tie-off point is to watch for overhead power lines. These lines are powerful conductors of electricity, and touching them for even a moment can result in serious injuries. Before you begin work at a new jobsite, take time to identify any power lines in the area and be sure to stay at least 10 feet away at all times. Whenever possible, connect with the local power company to de-energize power lines before you start working.

Provide Aerial Lift Safety Training to Your Workers
Aerial Lift Certification offers 100% OSHA-compliant aerial lift safety training. Your workers can use our training program to learn about aerial lift anchor points, along with other aerial lift safety topics. As a result, your aerial lift operators can safely perform day-to-day tasks, and your business can avoid OSHA penalties.We are happy to provide additional details about our aerial lift certification training program. To learn more or to enroll your workers in our training program, please contact us online or call us today at (888) 278-8896.