Top Boom Lift Brands and Aerial Manufacturers
With so many scissor lift brands and aerial manufacturers today, it's in your company's best interest to make a full assessment of the different aerial lift brands available. Any business – including yours – that uses aerial work platforms (AWPs), mobile elevating work platforms (MEWPs), scissor lifts and other aerial lifts will benefit from some up-front research and shopping around before making a purchase.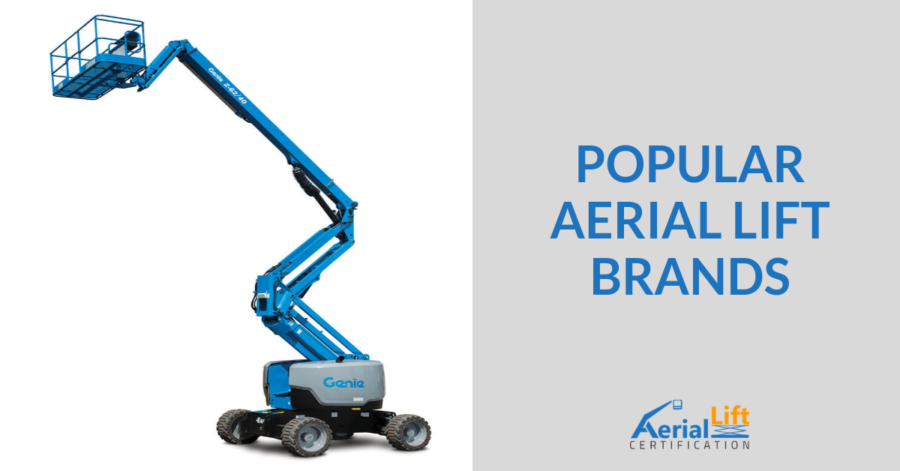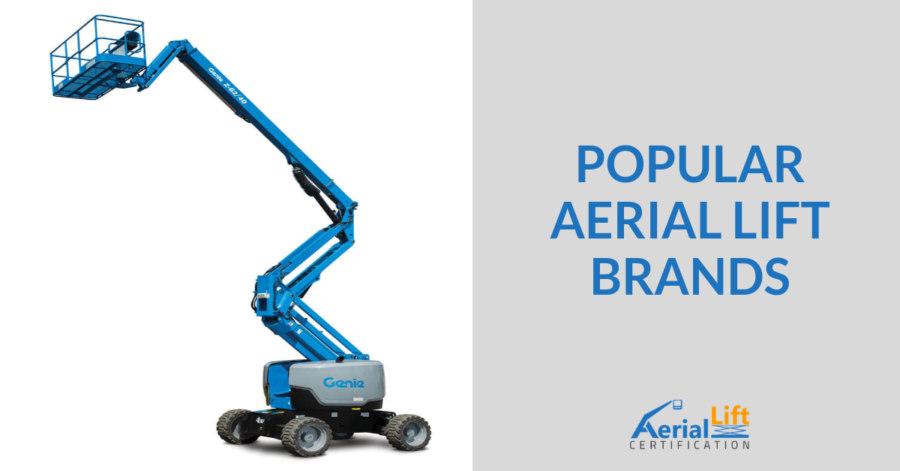 Some key considerations include:
Cost

Maximum reach height

Mobility

Worksite condition – indoors, outdoors, inclement weather, etc.

Depreciation – do some

boom lift brands

and

scissor lift brands

retain more value over time?

And many more
Choosing the best type of aerial lift will help your employees complete their work safer and faster than ever before. It will reduce the costs of owning and operating aerial lifts. It can also help boost productivity across your business. It literally pays to find out about all the boom lift manufacturers and scissor lift brands – some pre-purchase legwork helps ensure you're getting the best possible value with your AWP or MEWP purchase.
The same goes for training, which is why AerialLiftCertification.com (ALC), the leader in online OSHA certification, gives you the best possible value for your training dollar. With three popular courses and bundles to choose from, ALC gets your company compliant…and we'll help keep you compliant, too!
This blog will discuss the most popular manlift manufacturers, different brands of scissor lifts, aerial lift manufacturers,and  boom lift manufacturers, including their respective features, advantages, and customer support. With a better idea of which aerial lift brands are available, along with some different models from manlift and boom lift manufacturers, you'll be able to make the best-possible purchasing decisions. 

What Manlift and
Boom Lift Brands
Should You Consider?
Some companies want feedback from their aerial work platform (AWP) operators on what type of equipment to purchase. We think that's a great idea, particularly when there is a variety of manlift and boom lift brands on the market today! 
Now, let's take a look at some of the most trusted scissor lift brands and aerial lift brands.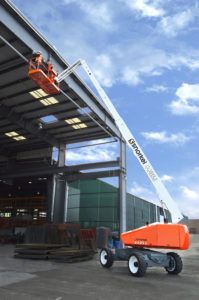 A global producer of aerial work platforms, Snorkel is one of the best-known boom lift brands and has locations in the Americas, Asia, Europe, Middle East, Africa, and Australia. One of the largest aerial lift manufacturers, they provide a wide range of aerial lifts with height limits ranging from 12 feet to 125 feet. Their product line features a wide array of both scissor and aerial lifts. Scissor lifts models include electric slab, rough terrain, and push-around minis. Aerial lifts range from speed level and electronic boom to telescopic articulated, and trailer boom lifts. Other products include personnel lifts, material lifts
Even though it's known as one of the premier manlift brands, Snorkel is also one of the best scissor lift brands. also offers versatile electric slab scissor lifts. With these lifts, the platform extends to just short of 12 ft. and has a vertical reach of almost 18 ft.. The TM12 electric scissor lift is used for many types of building and maintenance projects. Common job tasks include accessing ductwork, HVAC systems, electrical systems, and many types of cosmetic work on structures.
For higher jobs, the Snorkel 660SJ provides ample height and reach. It can reach up to 72 feet, and extend 60 feet horizontally. This allows it to reach the top of a 7-story building (about 70 feet). It can also hold up to 600 pounds on the platform to provide power for various projects.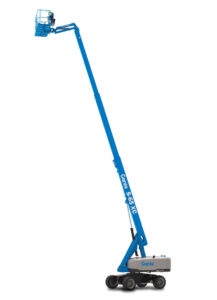 When talking about aerial lift brands and the best scissor lift brands, the discussion has to include Genie. Founded in 1966, Genie Lift started out selling compressed air-operated lifts, and this helped them gain an edge over other lift truck manufacturers and boom lift brands. Since then, Genie has grown into one of the most popular aerial lift brands in the country. These days, Genie offers a full line of telescopic and articulating boom lifts. Some models are electric. Others are diesel or bi-energy. Reach capabilities range from 31 to 80 feet. Genie Lift also offers manlifts, scissor lifts, mast lifts, light towers, and telehandlers. Now owned and operated by Terex, Genie Lift continues to provide top-quality aerial lifts and customer support. 
Genie Lift's flagship product, the Genie Lift™, includes the GL-4 model, which can be used as a hand truck, forklift, or dolly. With a max height of almost 6 ft. and a weight capacity of 500 lbs., it can handle many different tasks. The GL-4 is one of the most popular lifts among all aerial lift manufacturers. 
The Xtra Capacity line features a dual-envelope design with an unrestricted platform capacity of 660 lbs. These models were designed to perform a wide range of heavy lifting tasks at construction and industrial worksites. They can reach up to 59 ft. and extend more than 50 ft. horizontally. 
Founder John L. Grove set out to improve the construction industry in the 1960s. Since then, JLG has developed into one of the most popular lift truck manufacturers on the market. Known for its innovative designs, JLG produces many types of aerial lifts. These include electric and hybrid boom lifts, vertical lifts, low-level access lifts, stock pickers, scissor lifts, towable boom lifts, and telehandlers. JLG also offers a unique oscillating axle for increased motion, the extended electric boom lift, and the Workstation in the Sky. 
The 450AJ articulating boom lift is designed for working around tricky buildings or smaller spaces with limited access. It can reach up to 45 ft. vertically and 25 ft. horizontally. Created for improved multifunction, the 450AJ is used across many industries, and is the envy of many rival boom lift brands! 
The electric and hybrid boom lifts from JLG are eco-friendly and energy-efficient. They are also designed to improve productivity. The Compact Crawler boom X430AJ model comes with a 500-lb. weight limit and can reach up to 50 ft. high and 21 ft. across. The low weight and rubber tracks increase its versatility for different jobsites.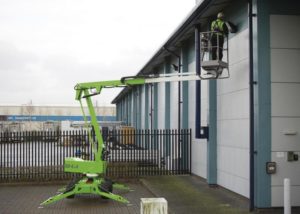 Niftylift is another widespread boom lift brand with locations around the globe. Like other manlift brands, Nitfylift combines 3D modeling software with in-depth product testing to create top-quality cherry pickers, boom lifts, and scissor lifts. Their full product line includes self-propelled aerial lifts, self-drive boom lifts, track drive lifts, and static base lifts. Niftylift lifts are known for excellent after-sales support, easy operation, and easy maintenance. 
The SP34N self-propelled boom lift provides maximum reach from a light, compact base. It has a telescopic boom arm that can raise the platform to a height of 33.5 ft. The lift has a working outreach of 20 feet and can hold over 7,000 lbs. And, the narrow chassis makes the SP34N ideal for working in tight areas. 
Comparatively, the SD34T self-drive work platform provides precise accuracy and positioning. The platform can reach up to 35 ft., with a 20-ft. outreach. With hydraulic outriggers and 45% gradeability, the lift can be safely driven on uneven surfaces. The SD34T also comes with a telescopic boom arm.
Immediately following the Second World War, Ballymore was founded in Eastern Pennsylvania. Of all the brands of scissor lifts, Ballymore has been a true innovator, thanks to their trailblazing work in the AWP and MEWP market, specifically with rolling safety ladders and hydraulic boom lifts in the mid-20th century.
Since their founding, Ballymore has cemented their reputation as a leading scissor lift brand, with a versatile and affordable lineup of lifts for construction, maintenance, electric work, and many other fields. One other feature of Ballymore is their company manual scissor lifts, available in both mini and classic models. While Ballymore's scissor lift offerings don't offer any outdoor or rough terrain equipment, they're still one of the most trusted and established scissor lift brands.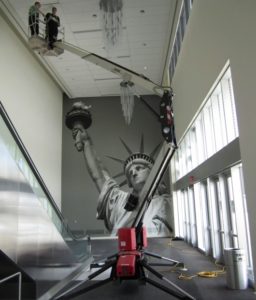 For over 40 years, Teupen aerial lifts have been a leading choice for construction, building maintenance, and tree care companies. Teupen, one of the most highly regarded boom lift manufacturers, also offers lift solutions for the special events and window cleaning industries. 
Designed to solve common safety and height access challenges, the firm's compact, track-mounted lifts are easy to transport. The company's Canopy Series line is made for tree work, while its LEO Series enables safe work at great heights. Tuepen's TC69A lift is the most versatile of their Canopy models. Easily towed by truck to worksites, the tracked chassis prevents damage to lawns and paved surfaces. The lift can reach up to 75 ft. Its compact design, low weight, and articulated boom offer an improved tree care experience for workers. 
The TL35A from the LEO series is Teupen's smallest lift. Designed for indoor work, it comes with a maximum working height of 42 feet and a maximum outreach of 19 ft. The compact lift can fit through a single door. It is also durable enough to access many outdoor worksites.
MEC has a 50-year history of being among the most popular aerial lift brands. Its scissor lifts and diesel and electric-powered boom lifts are well suited to a wide range of indoor and outdoor venues. MEC's full product line ranges from slab scissor lifts to rough terrain boom lifts. MEC is one of the top man lift manufacturers going today, and its lifts are designed for performance, safety, and productivity. 
The large Titan Boom 60-S combines the reach of a telescopic boom arm with the wide platform of a scissor lift. It can hoist workers and their tools up to 60 feet high. It can hold up to 1,000 lbs. of workers and equipment. Its 40% gradeability allows it to work safely at uneven outdoor sites. 
Built for outdoor work sites, the 2659ERT is MEC's mid-sized rough terrain scissor lift. It features a 35% gradeability and a weight capacity of up to 1,000 lbs. The large platform can hold up to three workers and their tools. This makes it a robust and highly efficient rough terrain scissor lift.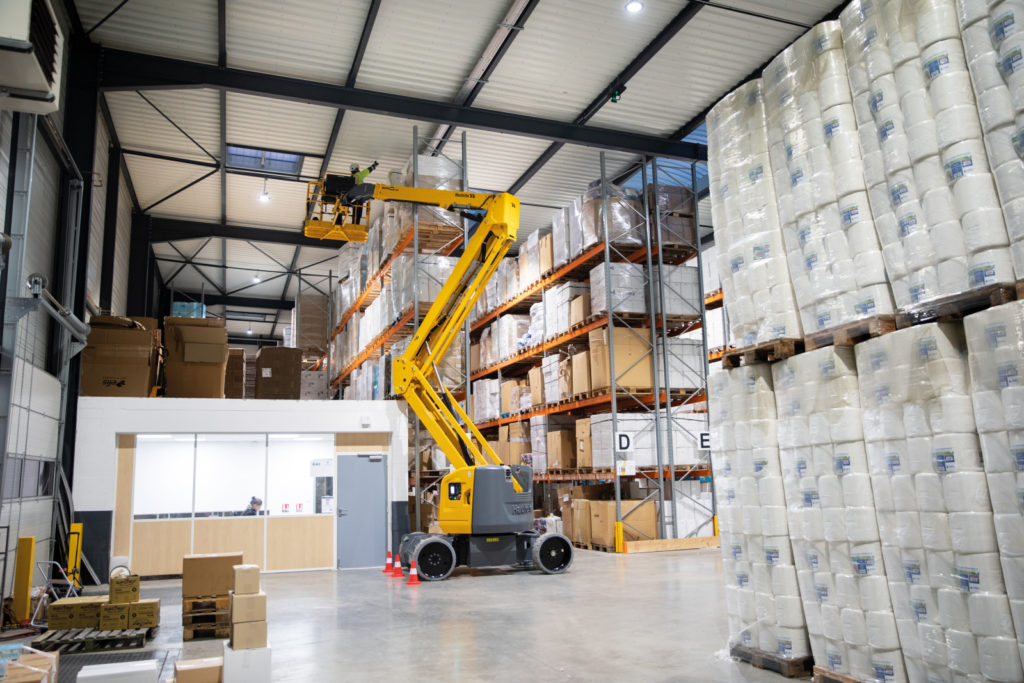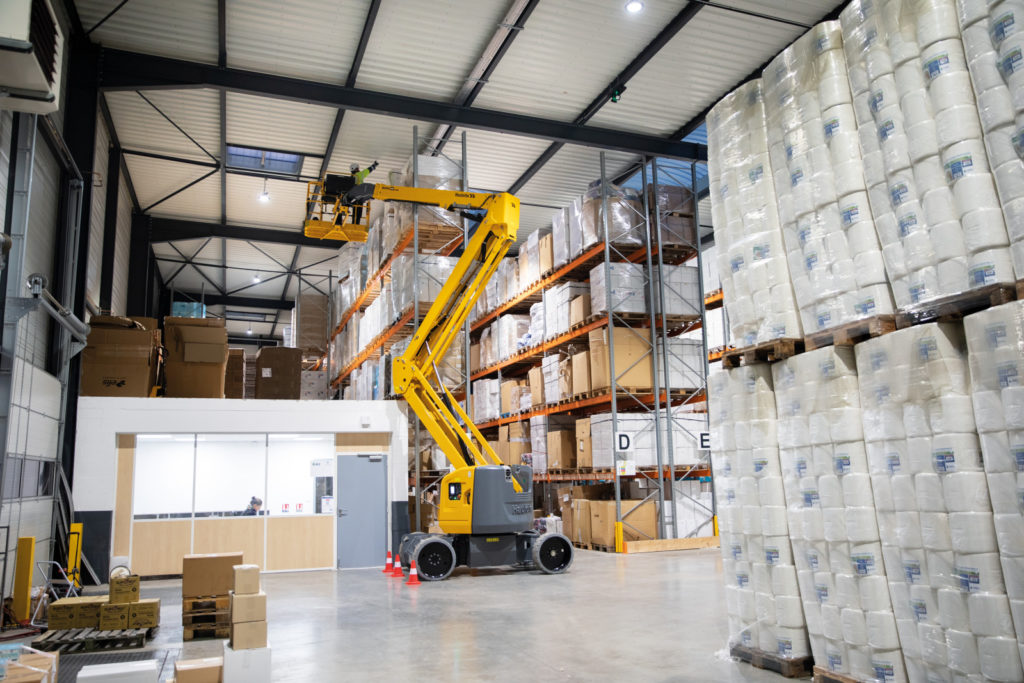 Haulotte Group offers a wide range of top-grade aerial work platforms. Its fleet includes AWPs, scaffolding and event product lifts, and electric scissor lifts. The boom lift manufacturer also offers trailer-mounted, self-propelled, and telescopic boom lifts. 
The Star 13 vertical mast lift is designed for reaching difficult areas. It is a popular choice for maintenance work and inside warehouses. The platform can go as high as 12.5 ft. Weight capacity tops out at 507 lbs. The lift stands less than six feet tall when stowed. All of which makes the Star 13 easy to operate and transport. 
On the other hand, the versatile 45 XA self-propelled boom lift combines low weight with a high work ceiling. The platform can reach up to 45 feet. The horizontal outreach extends 27 ft. The lift also has an up-and-over height of almost 21 ft. The 45 XA can be easily transported to work sites and set up in less than 30 seconds.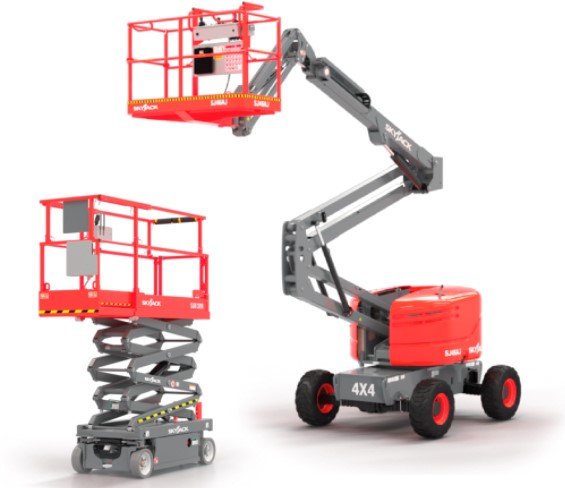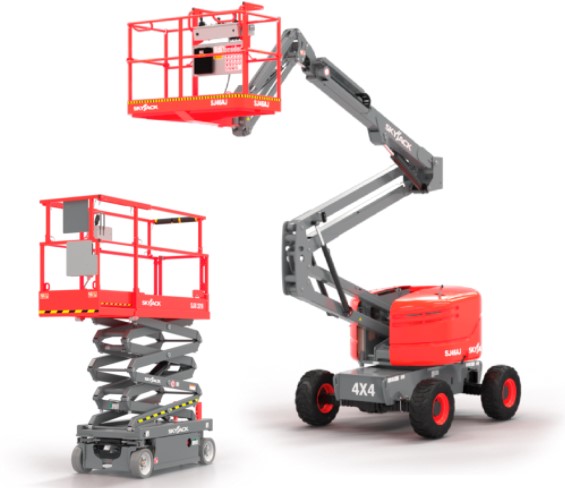 Skyjack offers aerial lifts that are "simply reliable." The company prioritizes simple lift design and intuitive product features. To date, Skyjack has produced some of the most sought-after aerial lifts. It also continues to explore ways to upgrade its product inventory. 
For businesses in search of rough terrain scissor lifts, Skyjack offers many options. The company's rough terrain scissor lifts provide gradeability up to 50%, crossover symmetrical four-wheel drive, and other features you won't find elsewhere. Plus, they come equipped with Skyjack's SKYCODED™ color-coded and numbered wiring system. SKYCODED™ makes it easy to troubleshoot, maintain, and repair the company's rough terrain scissor lifts. 
Along with its rough terrain scissor lifts, Skyjack may be best known for its micro lifts. Operators can use these lifts to navigate into tight spaces and safely complete tasks at elevation. The micro lifts are simple to drive and use powerful and efficient Gel batteries. They even offer a low cost of ownership in comparison to similar aerial lift models.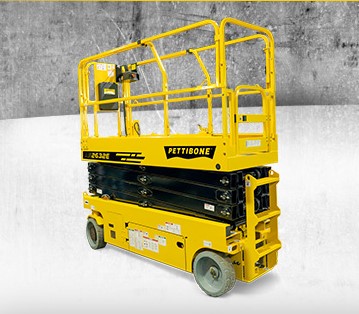 Pettibone is the answer to a trivia question: what is the oldest scissor lift brand in the world? Founded in 1881, Pettibone first made inroads as a reliable, tech-savvy scissor lift brand with their patented, one-of-a-kind forward-reaching rough terrain handler forklift. What started with considerable innovations in the forklift market has expanded into one of the best scissor lift brands available today. 
While forklifts remain a flagship product with Pettibone, they also offer popular scissor lifts as well, with both indoor and outdoor models for a wide variety of jobsites, tasks and applications. 
Which
Boom Lift Manufacturers
Are Best for Your Company?
AWPs come in a wide variety of types and sizes. The four main types are boom lifts, scissor lifts, vertical masts, and portable worker lifts. However, there are many specialty lifts as well. These include articulated boom lifts, telehandlers, and many others. 
Researching the most popular brands for aerial lifts is a great first step to find the right lift for your needs. When searching for lift manufacturers, look for one that has a strong track record of reliable products. You should also learn about myriad lift features, operator training, and customer support. 
If your company requests input from AWP employees, ensure their opinions are weighted accordingly. After all, they're the ones using the new equipment!

ALC: The Best Training for All
Boom Lift Brands 
Aerial lift certification training is an OSHA requirement, regardless of which aerial lift brand you select. So, if you intend to purchase an aerial lift, you need to provide your employees with appropriate training. That way, you can ensure your aerial lift operators are in compliance with OSHA standards. Also, you can verify that these operators can safely drive an aerial lift and limit their risk of lift accidents, injuries, and fatalities. 
To safely operate aerial lifts and scissor lifts, your workers also need OSHA-compliant aerial lift certification. Learn more about how to get aerial lift certification at ALC. We're the #1 online provider of fast, easy, one-hour training. If you're ready to elevate and improve your aerial lift safety program, sign up with AerialLiftCertification.com today.
We can provide additional details about our certification training programs for aerial lift operators. For more information or to enroll your workers in any of our programs, please contact us online or call us today at (888) 278-8896.